HUB78 and HUB9to12
Where 7th-12th Graders find Community and Connection
HUB (Formerly known as Triple T) is our 7th through 12th grade program, that engages students to deepen their Jewish knowledge, leadership skills, spirituality and social connection to their peers.
9th-12th graders can choose from a variety of options including our Madrichim Leadership Institute, Youth Group Events, virtual social action and advocacy training (aka Tikkun Time) and more!
HUB*78
Objectives: It is important for kids to be together, feel that they are not alone, feeling the same things, many things that are hard to describe

Open with wellness exercises & Jew schmooze cards: discuss aloud

Build resilience in a Jewish context: use Jewish values to build resilience for current and challenging time

Leadership training component
7th Grade:
Focus: Jewish identity exploration – root yourself in a strong foundation that helps teens examine & provide the tools to process intense changes
Use pop culture and Torah text: where can we find Jewish values in American pop culture?
Moving Traditions emboldens teens by fostering self-discovery, challenging sexism, and inspiring a commitment to Jewish life and learning.

curriculum to empower youth who feel isolated at home and to engage them in a series of positive youth development-based virtual programs to reduce stress and help build resilience

Maintaining friendships and forming relationships on and offline

Moving from stress and anxiety to balance and optimism

Communicating with parents

Speak out by challenging sexism on and offline

Racial justice-rage, riots and righteous
8th Grade: 
Focus: Jewish Sensibilities
Explore some of what Professor at the University of Virginia, Vanessa Ochs calls "The Ten Jewish Sensibilities." These are particularly Jewish ways of thinking about what it means to be human, ways that guide and orient a person's actions and choices.

Approaches to living and learning that permeate Jewish culture

Ideas, values, emotions and behaviors they express, emanating from Jewish history, stories and sources, provide inspiration and guidance that help us respond creatively and thoughtfully to life's challenges and opportunities.
Examples:
1) B'tzelem Elohim: We will use the concept that all people are created in God's image to better understand ourselves and our identities, 

as well as explore how this value is reflected in social justice movements and Jewish attitudes towards human rights and dignity for all people. 

We will identify ways to practice self-care and pikuach nefesh (preserving life) as practices rooted in this value, and we will do case studies of historic and modern-day Jewish social justice involvement.
2) Elu v'elu: We will look at text-based and historic examples of disagreement among scholars as well as conflicting groups throughout Jewish history to discern the value of disagreement and the cultivation of a "both, and" perspective. This perspective can lead to greater diversity, inclusion and creativity, as well as challenge us to hold multiple truths and make space for and honor differences. This will frame our discussions about leadership, from Talmudic scholars to the teens as synagogue leaders. 
HUB*9to12
Components:
Tikkun Time: Social Action and Advocacy.
Madrichim Leadership Program: You will have the opportunity to gain community service hours and resume-worthy leadership experiences. Squads include:
Judaica & Hebrew Squads: Assist in our virtual Kesher Judaica, Hebrew, or Mensch-ify classes. Work with teachers to design and implement programs, assist with in-class technology needs, help with class management, and more.
Geek Squad (Tech Support): Assist our Zoom Master during Kesher sessions to help make sure class breakout rooms run smoothly and that students, parents, and teachers get the technical support they need.
Henaynu Squad: Help create a caring Kesher community and support Jewish memory making. Organize the celebration of student birthdays and other milestones, send cards to students who may be going through a hard time, and more.
Materials Squad: Help us prepare materials to make sure our Kesher students are equipped at home with everything they need for class.
Kabbalat-o-Fun Squad: Help plan and organize pre-Shabbat service schmooze events for teens!

 

LoMPTY
Confirmation (11th & 12th Graders)

Monthly meetings with the rabbis, discuss Jewish topics and explore viewpoints
Monthly Calendar:
Tikkun Time: 1 or 2x/month

LoMPTY Lite Nite: 1x/month

Confirmation: 1x/month (last week)
HUB is also part of the Neshama Initiative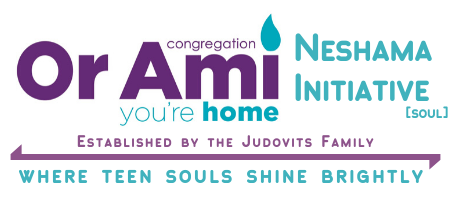 The Or Ami Neshama [Soul] Initiative is a multifaceted initiative, spanning 7th-12th grades, designed to build a safe space and caring community for Jewish teens and pre-teens of Congregation Or Ami and the surrounding communities. Participants learn about and experiment with Neshama tools, strategies for dealing with the challenging stresses and pressures that teens face in the world. The initiative fosters safe and trusting relationships among peers and adult mentors, including youth advisors and rabbis.