HUB (formerly known as Triple T) is our 7th through 12th grade program that engages students to deepen their Jewish knowledge, leadership skills, spirituality, and social connection to their peers.
HUB78   (7th & 8th Grade)
At HUB78 teens work together to develop a toolkit of values for building Jewish community anywhere. They explore Jewish approaches to living and learning, and put this into practice through creative leadership projects that connect Judaism to sports, science, art, and social justice.
HUB78 meets two Wednesday evenings a month from 7:00 – 8:30 pm.
HUB9to12   (9th – 12th Grade)
At HUB9to12 teens can relax, hang out with​ ​friends, and gain advanced leadership skills. Every week is something new​. Be inspired by motivational speakers, time​ ​management experts, Jewish thinkers, and soul​ ​supporters. Learn advocacy skills through our social​ ​action training. Receive community service hours​ ​while you volunteer in our Madrichim ​Leadership ​Institute​ ​to help our younger students bond to Judaism.​ ​11th and 12th graders hang monthly with the rabbis​ ​as a part of Confirmation.
​HUB9to12 meets every Wednesday evening from 7:00 – 8:30 pm. Drop in depending​ ​on your schedule and interests.
HUB is also part of the Neshama Initiative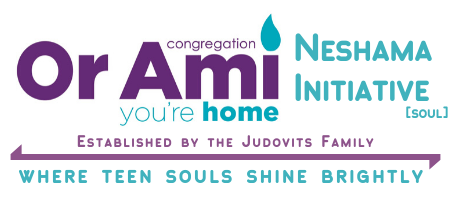 The Or Ami Neshama [Soul] Initiative is a multifaceted initiative, spanning 7th-12th grades, designed to build a safe space and caring community for Jewish teens and pre-teens of Congregation Or Ami and the surrounding communities. Participants learn about and experiment with Neshama tools, strategies for dealing with the challenging stresses and pressures that teens face in the world. The initiative fosters safe and trusting relationships among peers and adult mentors, including youth advisors and rabbis.