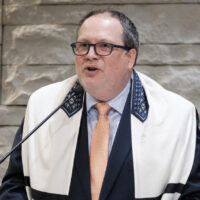 Instructions for the Care and Feeding of a Rabbinic Intern
By Rabbi Meir Bargeron
Prepare your community well. Have amazing partners, and programs. Make your synagogue special. Build up the soil so that your intern will have the nutrients he needs to establish roots and grow.


Have gifted rabbis and a cantor who see training and mentoring as a core part of their professional selves. They will be your rabbinic intern's guides on a journey of self-discovery. 


Add two classes of curious Kesher Judaica and Hebrew students who ask surprising and beautiful questions about Torah, God and everything else. Helping these young people discover and own their Judaism will make your rabbinic intern a better rabbi.


Shake and stir. Because the life of a rabbi is rarely settled and quiet.


Sprinkle in a team of driven community organizers, who are dedicated to reducing homelessness in our community. Their power and their collective heart will inspire the rabbinic intern to walk his talk in pursuit of justice. 


Stir in an Or Ami Village of congregants who will show the rabbinic intern how exciting innovation can be. 


Open your hearts and your lives. By allowing your intern to become a part of the Or Ami community, you become his teachers and he wants to offer you his best rabbinic self. You inspire him, you allow him to begin to see himself as a rabbi.



Let the intern learn and practice and enjoy serving the congregation. He will feel like you are a part of him. And then it will be time for him to go. He will be very sad about this. That means you have cared for and fed your intern very well.
I am deeply grateful for everything I have learned from you, my teachers. Thank you for trusting me, supporting me and seeing me through these last two years of my rabbinic internships. Thank you for showing me what a vibrant Jewish community looks like up close. Your inspiration will carry me forward as I take on the awesome responsibility of becoming the rabbi and spiritual leader of another wonderful congregation. Thank you for making this possible. Todah Rabbah from the bottom of my heart.