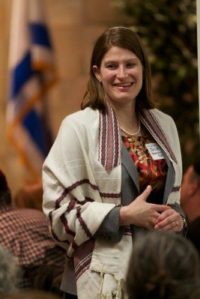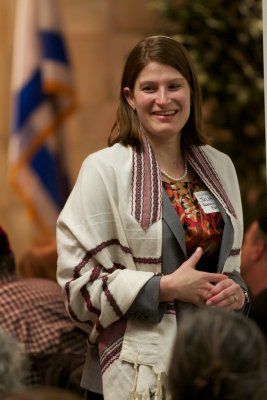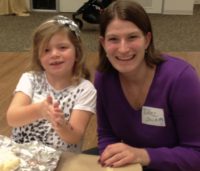 Rabbi Julia Weisz is Congregation Or Ami's Director of Education and one of Or Ami's rabbis.  Rabbi Weisz (or Rabbi Julia, as some call her) reflects upon her rabbinate:
In college I discovered I was interested in the emotional and spiritual aspects of healing addressed by rabbis. I explored this healing journey as a summer chaplaincy intern at UCLA Ronald Reagan Hospital, and as a student rabbi in the Santa Ynez Valley.  Ultimately, I poured myself into the study of Psalms, the Biblical poetry, and discovered time-tested resources to heal our brokenness.
From the moment I stepped on the bima during High Holy Days services years ago, I fell in love with Congregation Or Ami. The congregants and my clergy partners here continually build a warm and supportive community.  I believe that sharing the joys and struggles of life with each other is the ultimate support and care that a community can offer. Or Ami's commitment to henaynu (caring community) demonstrates our commitment to caring for one another. I love that my office has become a hang-out space for our teens, who feel comfortable to confide their worries and share their lives with me.
I love the partnership at Or Ami. Writing a new vision for Or Ami's learning programs, we focused on two values: Talmud Torah (meaningful, deep Jewish learning) and Henaynu (the imperative for communal caring). Quickly and pervasively, this vision has brought together parents, youth, and other synagogue leaders to transform our learning programs. I am especially proud that our innovation has led Congregation Or Ami to gain national recognition in the Reform Movement's Campaign for Youth Engagement.
I am passionate about community organizing and enjoy being a founding leader of Reform CA, a campaign of the California Reform Jewish Movement to act powerfully together for justice in our state. I fell called to bring Jews and Jewish families together as a movement to play a role in repairing the California dream. Within Reform CA, we are addressing systemic issues of injustice that hurt our families and our brothers and sisters across lines of race, class, and faith, seeking to build a California that is just, compassionate, thriving, and inspiring.
I love teaching Torah to our adult group and leading women through N'siah: Jewish Women's Journey Groups. Our film showings and social action projects give me opportunities to experience the breadth of Jewish culture and justice work.
An innovative educational leader, Rabbi Weisz created Triple T (Tracks for Temple Teens), a new approach to teen engagement that embraces multiple paths to Jewish connection. She has revitalized our Kesher and Mishpacha learning programs. She has introduced Shabbat Pajama Parties for our Kindergarten through 3rd grades, Tot Shabbat for younger children, our SoMPTY (6th-8th grade) youth group, and JUST (Just Us Teens) programs which brings all teens together. She created our wildly successful 4th-6th grade and Triple T (7th-12th grade) retreats.
Ordained as Rabbi in May, 2011, Rabbi Weisz previously earned her Masters degree in Jewish Education in 2009, both from Hebrew Union College-Jewish Institute of Religion in Los Angeles. Rabbi Weisz grew up in Dallas, Texas, and graduated Southern Methodist University with a BA in Psychology and Religious Studies.
Rabbi Weisz sits on the clinical faculty of the Rhea Hirsch School of Jewish Education, and teaches sessions on pastoral counseling in the rabbinic program at Hebrew Union College-Jewish Institute of Religion. She served on the editorial committee for Mishkan R'fuah: Where Healing Resides, a healing prayerbook of the Central Conference of American Rabbis.
Rabbi Julia lives with her husband David, and their son Noam, daughters Madeline and Eve, and dog Pitzi. She spends her free time reading, cooking, training for the Susan G. Komen Breast Cancer Three Day Walk, traveling, and eating great food.