Welcome to Congregation Or Ami - You're Home!
No one is more welcome at Or Ami than you…
Already a partner and ready to renew? CLICK HERE
New to Or Ami and ready to sign up? CLICK HERE
To learn about our virtual youth community and learning programs, CLICK HERE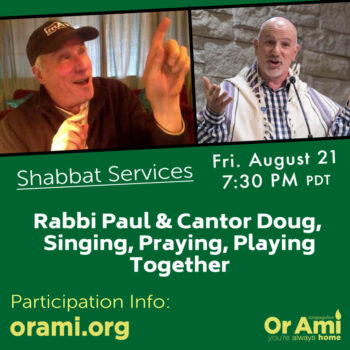 Tonight's Shabbat Service
August 21 @ 7:30 pm – Rabbi Paul & Cantor Doug, Singing, Praying, Playing Together
Zoom info TBD.
LiveStreams:  oramiLIVE.com — Facebook Live
Summer Hours at Or Ami
Our office is observing summer hours, closing on Mondays. The answering machine has instructions on how to reach our staff in an emergency.