TIKKUN OLAM
Social Action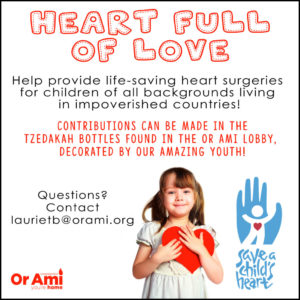 Heart Full of Love
Heart Full of Love provides life-saving heart surgery to children of all backgrounds who are living in impoverished countries.
Or Ami youth are decorating tzedakah boxes to fill with donations! And all congregants are invited to donate and place contributions in the bottle in the lobby.
For further information, contact Laurie Tragen-Boykoff, laurietb@orami.org.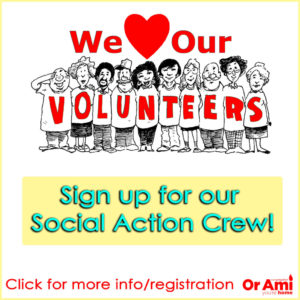 Social Action Crew Sign Ups - Ongoing
Are you interested in…
Providing comfort bags for foster care youth?
Promoting volunteer opportunities to Or Ami youth?
Memorializing children lost in the Holocaust?
These program exist, only because of the contributions of congregants like you. Without your assistance, our award-winning social action projects would not occur.
Some of our upcoming projects are…
Want to get involved in Social Action?
Contact Social Action Coordinator
-OR-
Check here for volunteer opportunities:

SOCIAL ACTION VOLUNTEERS NEEDED!
A Co-Chair is needed to promote Or Ami's Meaningful Giving Project.  Quarterly, Or Ami responds to requests by needy groups in the community. We have collected homemade blankets for ill children, 'back to work" clothing for struggling men and women, and so much more—–we need your help to be able to continue this wonderful project.