TIKKUN OLAM
Social Action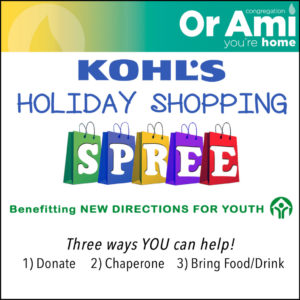 Kohl's Shopping Spree: 3 Ways to Help!
On Sunday, December 8 2019, volunteers from Or Ami will provide lunch and a $100 shopping spree at Kohl's to 50 at-risk kids that are a part of New Directions for Youth…
Donate! You can sponsor an at risk youth's shopping spree by clicking here and selecting "Kohl's Shopping Spree for at Risk Youth" when you donate.
Chaperone! Help a kid shop or assist with set-up, clean- up and checking out of the store. Click here to sign up.
Donate Food/Drink! Water, juice and baked goods are needed for lunchtime. Click here to sign up.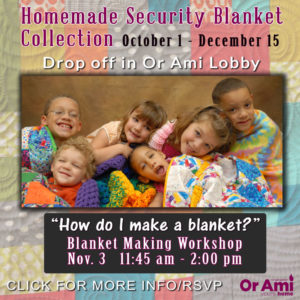 Blanket Collection and Workshop
From October 1 to December 15, Or Ami will be collecting security blankets for Project Linus and to help collect as many as possible, we will be holding a workshop to make beautiful no-sew blankets together. Won't you take part in this beautiful act of tikkun olam?? Join us Sunday November 3! NO SEWING SKILLS REQUIRED!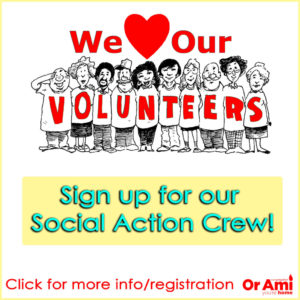 Social Action Crew Sign Ups - Ongoing
Are you interested in…
Providing comfort bags for foster care youth?
Promoting volunteer opportunities to Or Ami youth?
Memorializing children lost in the Holocaust?
These program exist, only because of the contributions of congregants like you. Without your assistance, our award-winning social action projects would not occur.
Some of our upcoming projects are…
Want to get involved in Social Action?
Contact Social Action Coordinator
-OR-
Check here for volunteer opportunities:

SOCIAL ACTION VOLUNTEERS NEEDED!
A Co-Chair is needed to promote Or Ami's Meaningful Giving Project.  Quarterly, Or Ami responds to requests by needy groups in the community. We have collected homemade blankets for ill children, 'back to work" clothing for struggling men and women, and so much more—–we need your help to be able to continue this wonderful project.