TIKKUN OLAM
Social Action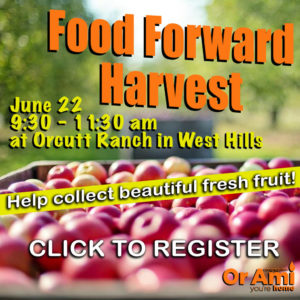 Food Forward Harvest - June 22, 9:30 - 11:30 am
At Orcutt Ranch, 23600 Roscoe Blvd, West Hills, CA 91304
Harvest food, fight hunger, build community! 2 years ago, Or Ami congregants purchased a "Food Forward" truck whose sole purpose was to transport surplus fruits and vegetables to the homeless. We will be collecting the beautiful fresh fruit that would otherwise go to waste at Orcutt Ranch on June 22, 9:30 am, and donating 100% to local hunger-relief agencies. Join the Volunteer Harvest Team to help us pick as much fruit as possible. This opportunity is open to 20 volunteers, 5 years old and older, though children under 16 years old must be accompanied by an adult. Sign-ups are necessary.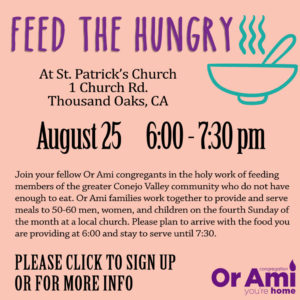 Feed the Hungry - August 25, 6:00-7:30 pm
Join your fellow Or Ami congregants in the holy work of feeding members of the greater Conejo Valley community who do not have enough to eat. Or Ami families work together to provide and serve meals to 50-60 men, women, and children on the fourth Sunday of the month at a local church. Please plan to arrive with the food you are providing at 6:00 and stay to serve until 7:30.
QUESTIONS? Please contact Or Ami's Feed the Hungry Coordinators, The Pofsky Family, with any questions (pofskyfamily@gmail.com or 310-733-8984).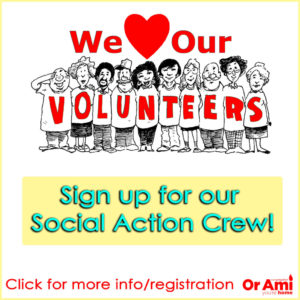 Social Action Crew Sign Ups - Ongoing
Are you a congregant interested in assisting with or chairing one of our meaningful social action events? These program exist, only because of the contributions of congregants like you. Without your assistance, our award-winning social action projects would not occur.

Some of our upcoming projects are…
Want to get involved in Social Action?
Contact Social Action Coordinator
-OR-
Check here for volunteer opportunities:

SOCIAL ACTION VOLUNTEERS NEEDED!
A Co-Chair is needed to promote Or Ami's Meaningful Giving Project.  Quarterly, Or Ami responds to requests by needy groups in the community. We have collected homemade blankets for ill children, 'back to work" clothing for struggling men and women, and so much more—–we need your help to be able to continue this wonderful project.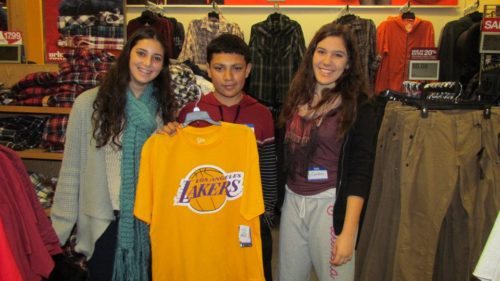 Opportunities for congregants 60 yrs plus to share a meal  and engage in a meaningful social action project.

A partnership with a reform synagogue in Israel. We learn from eachother, sharing cultural, educational and religious programs in order to strengthen our mutual relationship.

Chair: Jodi Dalyai and Angie Haziza

 

When: Wednesday, March 20, (time to be determined)

 

We will assemble survival packs and write cards for those living without shelter.

 

Family Friendly

A call to action through the arts and memorial making. Participants paint ceramic butterflies that are permanently displayed as symbol of resilience and hope, with the goal of creating 1.5 million butterflies around the world—one for each child who perished in the Holocaust. Family Friendly.

Programs are being developed to assist victims of human trafficking in the Conejo Valley. Not Family Friendly.

Fostering Hope Presentation: Panel will discuss ways we can assist foster youth 

Partner Outside Organization: Department of Children and Family Services 

Chair: Laurie Tragen-Boykoff Co-Chairs: Nina Treiman, Jessica Ambroz (DCFS) 

When: Thursday, March 16, 7:00 – 8:15pm 

Description: Have you wondered how to leave a hand print on a child's heart? A unique panel of professionals will share the ways, large and small. Foster youth are in need of all of the things that our own children take for granted, books and music, guidance and warm/th. At Congregation Or Ami, we make thousands of comfort bags for children going into emergency foster care. Join us as we take the next steps. 

Family Friendly: No. Adults only. Childcare/Homework Club provided.

Partner Outside Organization: New Directions for Youth


Chair: Lucille Goldin


Website: Rabbi's Blog

Volunteer: Sign Up Genius Here

When: Saturday, December 11th, 12:00PM – 2:00PM

Sponsor a Child: Donate here

Completion Date of Last Project: December 2015

Description: Our Child Shopping Spree takes unprivileged kids from New Directions for Youth on a shopping spree at Kohl's department store, allowing them to pick out new clothes. For some, this is the first time they do not get hand me downs or thrift store clothes. We provide a 0 shopping spree, delicious pizza lunch (donated by Stonefire Grill), dessert, and other gifts. Individual adults and families chaperone the at risk youth to pick out clothes and even a few personal gifts for a family member. Volunteers also help with check in, work the lunch court, organize the chaperones, and assist in the checkout line.

Family Friendly: Yes

Is It B'nai Mitzvah Project Worthy?: Mitzvah Projects require a minimum 10-hour commitment to a single project. Interested students should contact Event Chair and Mitzvah Project Coordinator several months in advance to determine whether some aspect of coordinating this event could serve as a Mitzvah Project. While definitely a wonderful Mitzvah, volunteering as a shopping host alone will not fulfill the Mitzvah Project requirements.

Partner Outside Organization: K.E.N. Project

Chair: TBD, in partnership with through Dina Kaplan

Website: Brandon's Buddies

When: Quarterly

Date of Project: ongoing

Description: Brandon's Buddies provides an opportunity for children with special needs to play and interact with typically able kids. Brandon's Buddies meets monthly at Gates Canyon Park (Brandon's Village). However, Or Ami sponsors the event four times a year. 

Volunteers help with arts and crafts, face painting; games, and playing with all the kids.

Family Friendly: Yes

Is It B'nai Mitzvah Project Worthy?: 10-hour minimum commitment – requires advance planning, Event Chair oversight, and Mitzvah Project Coordinator approval. Interested students should coordinate with the Event Chair to plan, recruit volunteers, and lead a specific aspect of Brandon's Buddies playdates.

Partner Outside Organization: Chaverim, a project of Jewish Family Service

Chair: Rabbi Paul Kipnes Co-chair: Steve Keleman

Website: www.jfsla.org/chav and www.chaverimjfsla.org

When: ongoing

Completion Date of Last Project: ongoing

Description: Adults with developmental disabilities (ages 18 to 88) enjoy the JFS Chaverim social friendship program that keeps them connected to the Jewish community.  We offer fun-filled and structured secular activities, such as bowling, field trips and exercise programs, as well as Jewish activities like Shabbat dinners, Passover Seders and B'nai Mitzvah preparation. Volunteers design and deliver programs, accompany participants on day trips and other activities, and welcome Chaverim members to Shabbat services

Family Friendly: Ages 18-adult

Is It B'nai Mitzvah Project Worthy?: Mitzvah Projects require a minimum 10-hour "hands on" commitment to a single project. Interested students contact Program Coordinator Gerry Dicker to determine whether there is a need within the student's project timeframe for coordination of a specific activity. As always, advanced planning and Mitzvah Project Coordinator approval are required.

Partner Outside Organization: LSS Community Care Center of Ventura County

Chair: Lenore Alexander

Website: www.lsscommunitycare.org

When: Monthly, 4th Sunday of each Month, April to November

Completion Date of Date of Last Project: Ongoing

Description: We feed a group of homeless people, once a month, as part of an interfaith religious coalition. Volunteer prepare and serve a dinner at St. Patrick's Church in Thousand Oaks. 4-6 families volunteer to prepare and serve meals to approximately 50 people. Specific details including sample meal plans are available by contacting the Chair.

Family Friendly: Yes

Is It B'nai Mitzvah Project Worthy?: 10-hour minimum commitment requiring advanced planning – interested students should contact the Event Chair to secure a date several months in advance and secure approval from Or Ami's Mitzvah Project Coordinator. Student assumes responsibility for recruiting volunteers for the day (family, friends, and/or classmates), cooking some of the food, ensuring the required amount of food will be delivered, and coordinating volunteers to serve and clean up.

Partner Outside Organization: New Directions for Youth

Chair: Randy Sharon Co-chair: Marty Waschitz

Website: Rabbi's Blog

When: July

Date of Project: 7/1/2014

Description: At risk youth from New Directions for Youth enjoy a fishing trip sponsored by the Los Angeles Rod and Reel Club. We provide chaperones and lunch, as the children fish. Volunteers act help the children, some of whom are fishing for the first time. 

Family Friendly: No, adults only.

Is It B'nai Mitzvah Project Worthy?: No

Partner Outside Organization: Green Bag Project

Chair: Victor Cohen

Website: www.green-bag-project.org

When: Winter-Spring

Completion Date of Last Project: 4/30/14

Description: We collect clothing, blankets, water and ready-to-eat food for people on skid row. Volunteers organize the donations and put them into green bags. Volunteers can help distribute the bags to the homeless people on skid row.

Family Friendly: Yes, but better for older children and adults with an open mind for interacting with destitute people.

Is It B'nai Mitzvah Project Worthy?: 10-hour minimum commitment – requires advance planning, Event Chair oversight, and Mitzvah Project Coordinator approval.

Partner Outside Organization: Habitat for Humanity

Chair: Fred Gruber

Website: www.habitat.org

Completion Date of Last Project: TBD

Description: Habitat for Humanity is a nonprofit, ecumenical organization founded on the conviction that every man, woman and child should have a decent, safe and affordable place to live. Volunteers gather building materials, and where possible, help with the building of actual houses.

Family Friendly: Need to be 16 years or older to participate (16-18 needs parent consent)

Is It B'nai Mitzvah Project Worthy?: No, due to minimum age requirement for participation.

Partner Outside Organizations: Interfaith Council of Conejo Valley, with direct partnership with Islamic Center of Conejo Valley (ICCV)

Chair: Kevin Palm

Website: www.iccv.org

When: ongoing

Completion Date of Last Project: ongoing

Description: An ongoing project of our outreach program to various other local faith organizations, we try to foster a dialogue of understanding by sharing our similarities and appreciating our differences. Sessions can include pulpit exchanges, adult learning opportunities, as well as joint social justice projects. Our intention is to partner a few times a year with various community service activities, including partnering for B'nai Mitzvah projects. Current partners include the Islamic Center of Conejo Valley (ICCV).

Family Friendly: Yes, for families with kids 11 years or older.

Is It B'nai Mitzvah Project Worthy?: 10-hour minimum commitment – requires advance planning, Event Chair oversight, and Mitzvah Project Coordinator approval. Interested students should contact the Event Chair to determine whether an event featuring an interfaith dialogue among middle school students is appropriate, then plan, advertise, recruit participants, and lead the event.

Partner Outside Organization: Hope of the Valley Rescue Mission

Chair: Sabrina Stone Co-chair: Chelsea Stone

Website: www.jillscoatsforkids.com

When: December

Completion Date of Last Project: 12/15/2013

Description: We spread warmth and happiness by collecting and distributing coats to kids in need living in the San Fernando Valley. All second hand coats must be in great condition, and are washed and cleaned before being placed. Volunteers pick up coats from drop-off locations (at local schools, from people who call in donation offers, and at Or Ami), and wash all coats and then sort by age and gender before dropping them off at the distribution location. Volunteer adults (only) may also be present when children try on and select the coat of their choice.

Family Friendly: Yes

Is It B'nai Mitzvah Project Worthy?: 10-hour minimum commitment – requires advance planning, Event Chair oversight, and Mitzvah Project Coordinator approval.

Partner Outside Organization: Kids In Need of Defense (KIND)

Chair: Allan Kassirer

Website:  www.supportkind.org/en/

When: ongoing

Completion Date of Last Project: ongoing

Description: The KIND Pro Bono advocacy program engages attorneys and Spanish speaking congregants to help children who have escaped from either abuse, harassment by drug related gangs, or were victims of crime in their native countries, and who have made the harrowing journey to the United States and been taken in to custody by the INS to gain legal status in the US. US law protects these children, and volunteers give minimal hours to help save these children.

Family Friendly: No, need adults who are licensed attorneys and/or can speak fluent Spanish to help translate conversations into English.

Is It B'nai Mitzvah Project Worthy?: No

Partner Outside Organization: New Directions for Youth (ndfy.org)

Chair: Laurie Traygen-Boykoff Co-chairs: Debbie Husch, Danielle Walsmith 

Website: none

Pictures: Check them out on Facebook

When: Spring

Completion Date of Last Project: 4/19/2014

Description: Mitzvah Day April is a carnival hosted by Or Ami for at risk youth of New Directions for Youth, a social service agency providing counseling, academic tutoring, recreation and mentorship to youth at high risk of gang involvement. Volunteers are needed run the booths and activities at the carnival, as well as to sponsor booths, food and attractions. Or Ami volunteer adults/families are matched with youth from NDY as they go thru the carnival so that personal relationships can begin to build.

Family Friendly: Yes

Is It B'nai Mitzvah Project Worthy?: 10-hour minimum commitment – requires several months advance planning and approval by Event Chairs and Mitzvah Project Coordinator. Interested students should check with the Event Chairs about actual needs, such as providing advance planning and coordination of a specific booth or activity at the carnival.

Partner Outside Organization: Reform CA (ndfy.org)

Chair: Rabbi Julia Weisz

Website: www.rac.org/reformca/

Pictures: Check them out on Facebook

When: ongoing

Completion Date of Last Project: ongoing

Description: Reform CA is a joint campaign of California Reform Movement to act powerfully together for justice in our state. As a project of the all the social justice initiatives of the Reform Movement (the Peace and Justice Committee of the CCAR, the Religious Action Center, and the Just Congregations) we feel called to come together as a Movement to play a role in repairing the California dream. We join with one another to address systemic issues of injustice that hurt our families and our brothers and sisters across lines of race, class, and faith. Justice has been at the foundation of our Reform Jewish Movement since its inception. Acting together, we seek to build a California that is just, compassionate, thriving, and inspiring. Volunteers hold one-to-one and small group gatherings to discover what issues concern us a individuals and then group together to address commonalities.

Family Friendly: No

Is It B'nai Mitzvah Project Worthy?: 10-hour minimum commitment – requires several months advance planning and approval by Event Chair and Mitzvah Project Coordinator. Interested students should check with the Event Chairs about actual needs.

Partner Outside Organization: none

Chair: Jack Mayer

Website: www.saveachildsheartus.org

When: ongoing

Completion Date of Last Project: ongoing

Description: Save a Child's Heart is a highly acclaimed Israeli international humanitarian medical project, located at the Wolfson Medical Center, a government hospital in Holon, Israel. Our mission is to save the lives of children from developing countries by performing heart surgery to correct congenital heart problems and deformities. Without this treatment all of these children would perish. Also we train pediatric heart surgeons and medical specialists to create medical teams to work in their own countries.  To date, we have saved more than 3300 children from 48 countries. More than half of the children who were treated successfully last year were from Gaza and the Palestinian Authority. SACH also operates a Children's Home in Holon where the children and guardians from various countries stay normally for 3 months for pre and post-operative care. The cost to save one child is only ,000 … much less than a 10th of what it would cost in the United States.

Family Friendly: Yes

Is It B'nai Mitzvah Project Worthy?: Mitzvah Projects require a minimum 10-hour "hands on" commitment to a single project. Any fundraising needs to be above and beyond the basic requirements. Interested students should contact the Event Chair to discuss an advocacy or awareness-raising campaign involving outreach to schools, scouts, or other outside community organizations. Mitzvah Project Coordinator approval required.

Partner Outside Organization: Canoga Park Elementary School

Chair: Lisa Gordon

Website: none

When: November

Completion Date of Last Project: 11/15/2013

Description: Individuals and families choose one or more students from a local elementary school and, using shoe size provided, provide new athletic/running shoes to children in need. 

Family Friendly: The program can be family friendly as a project for organizing and checking to make sure the correct shoe sizes were purchased, but an adult needs to organize everything else.

Is It B'nai Mitzvah Project Worthy?: 10-hour minimum commitment – requires advance planning, Event Chair oversight, and Mitzvah Project Coordinator approval.

Partner Outside Organization: Jewish World Watch

Chair: Lawrence Linick – 818-324-0795, linick929@gmail.com

Website: www.jww.org/walks/join-us-at-the-2019-walk-to-end-genocide

When: April 7 2019

Completion Date of Last Project: May 6 2018

Description: The Walk to End Genocide is a community event that brings together activists of all ages and backgrounds to rise up in one united voice to say: "We will not stand idly by while genocide and mass atrocities occur."

We Walk for the 68.5 million refugees and displaced persons fleeing genocide and mass atrocities worldwide.
We Walk to urge our government to take action and to demonstrate that there are thousands of people who care about the crimes against humanity affecting children, women and men every day.
We Walk to raise funds to educate, advocate and provide on-the-ground relief for survivors of genocide and mass atrocities. Our projects help people in Sudan, South Sudan, Syria and the Democratic Republic of the Congo, as well as the Darfuris forced to flee Sudan and the Rohingya who have faced ethnic cleansing in Burma (Myanmar).

Family Friendly: Yes, this program is geared towards families more than individuals.

Is It B'nai Mitzvah Project Worthy?: Mitzvah Projects require a minimum 10-hour commitment to a single project. Interested students should contact Event Chair and Mitzvah Project Coordinator several months in advance to determine whether some aspect of coordinating this event could serve as a Mitzvah Project. While definitely a wonderful Mitzvah, participating in the Walk to End Genocide alone will not fulfill the Mitzvah Project requirements. Interested students could potentially coordinate with the Event Chair and/or Jewish World Watch to raise awareness and recruit participants for The Walk To End Genocide.

JWW also offers the Teen Ambassador Program (TAP). JWW is dedicated to building global citizens with the knowledge of world Problems and leaders with the ability to take action. JWW designed TAP believing that every teen has the ability to make a difference in the World RIGHT NOW and to be a leader to others while doing so.

The TAP program has two ultimate goals. First to build confident young adults who understand what it means to LEAD. Second, to develop teens to serve as JWW ambassadors to their communities as partners in the mission of ending genocide and mass atrocities and helping those who have been affected by the upheaval that genocide and mass atrocities leave in their wake. Participating in TAP for a minimum of at least 10 hours could serve as a very worthy Mitzvah Project.

Please contact Or Ami JWW Chair – Lawrence Linick at 818-324-0795, or email: linick929@gmail.com for more information on TAP