March 12th COVID -19 Email
This message was sent on March 12th at 3:15pm
Dear Congregation,
Congregation Or Ami is a community of Jews and our loved ones who come together to study Torah, celebrate life's beautiful moments, hold each other in difficult times, and strive together to repair our broken world. One of the most important Jewish values is how we care for one another – especially during our most vulnerable times. As COVID-19 continues to have a growing impact on California and the Congregation Or Ami community, we will share regular updates – by email and on our homepage orami.org.
In our response to this global health crisis, we are attempting to balance multiple, sometimes competing values. Coming to synagogue is fundamental to Jewish life. We now find ourselves in a moment where this impulse can be at odds with another core Jewish value, pikuach nefesh – protecting the health and safety of ourselves and others, particularly those who are most vulnerable to contagious diseases like COVID-19.
In an abundance of caution, and to protect the safety of our community, Congregation Or Ami is canceling all gatherings of 50 or more people until March 31st, with the exception of religious services. We will reevaluate thereafter.
Under this policy, these events upcoming are canceled:
Mensch-ify on March 15th and March 29th. Join us via Facebook Live for an interactive virtual session from 9:00-9:30 am on March 15th.
Butterfly Project on March 15th
Kesher Judaica & Hebrew Language on March 18th and March 25th
Beit T'shuva Freedom Song on March 18th
These events will continue as scheduled, with social distancing precautions in place:
Friday night services on March 13th and March 20th (also livestreamed)
Torah Study on March 14th (also on ZOOM – see below)
We are working on restructuring the following youth group events to maximize safety. Please stay tuned for updates on:
GoMPTY Movie on March 22nd
SoMPTY Sleepover on March 21-22nd
ProMPTY with LoMPTY on March 28th
Events we are adding:
Thursday, March 12 at 8:30 pm – Centering Meditation with Rabbi Paul on Facebook Live
Wednesday, March 18 at 7:30 pm – Kodesh Moments: Spiritual Strengthening for Soul Sucking Times with Cantor Doug and Rabbi Paul via Facebook Live and oramiLIVE.com
K-12th Grade Education: We are currently developing distance learning alternatives for Judaica, Hebrew, and teen education. Families will be updated soon on how to participate.
Livestream Options: Religious services will continue to be livestreamed, which provides an option for people to stay at home, while still connecting with our Or Ami community. Live streaming is available online at these two links:
Facebook: Congregation Or Ami

OramiLIVE.com
Prayerbooks: If praying remotely, use the free online flip book for Mishkan T'filah for Shabbat or download the discounted Kindle e-book version.
ZOOM: We will soon be offering special Or Ami spiritual and learning events – including Torah study, meditation, and Ask Me Anything sessions with the clergy – via Zoom, an internet video-conferencing platform. Please download this software soon to your computer, phone, and/or tablet so that you can be ready to participate.
As conditions are changing rapidly, there may be additional announcements or cancelations – possibly on short notice. Before leaving to come to an event at Or Ami, we encourage you to check our website homepage orami.org for the most up-to-date information.
These changes are a significant disruption in the life of our Our Ami community. We understand that they may bring up feelings of confusion, anxiety, or frustration. These feelings are to be expected in a time when our community is facing something that has not happened in any of our lifetimes. Even though you may be spending less time together in our synagogue building, we remain strongly connected as a holy community. At Congregation Or Ami, you're home; wherever we are located as individuals, we are always home, always in community. Please reach out to us for support, prayer, and solace.
Tune in this evening for: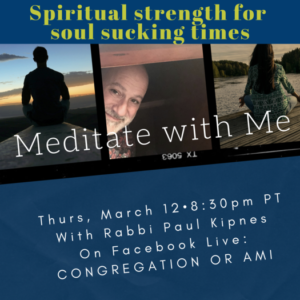 Rabbi Paul Kipnes
Cantor Doug Cotler
Rabbi Julia Weisz
And Your Congregation Or Ami Caring Team