Or Ami Village—it's not a place. It's a vibrant community created and led by Or Ami partners 55+ years and beyond that nourishes the mind, heart, and spirit.

Thanks, Gil Spiegel! Or Ami Village has become an integral part of Congregation Or Ami, sharing the same inclusive values of warmth, community and friendship. Since our inception in 2019, we have presented a variety of over 60 programs to our 55+ community. We continue to add more and more events and opportunities to gather.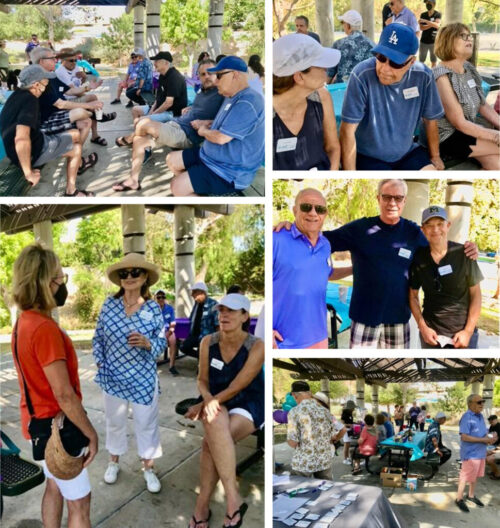 SUMMER HAS SPRUNG AND SO HAVE WE! Our Villagers mingled on a Sunday afternoon in the shade of a beautiful park. The first of many upcoming outdoor activities!
Not a Villager yet? Want to find out more? Email us at village@orami.org. Already a paid Villager? Thank you! Your support means so much.

Quarterly Newsletter with reviews of past programs, news of upcoming events, kvelling corner, bulletin board, cartoons, recipes, healthy living tips.
WHAT PEOPLE ARE SAYING ABOUT OR AMI VILLAGE
"Really enjoying the events and opportunity for new friendships!"
"Thank you for creating and implementing the Or Ami Village! Your efforts are greatly appreciated."
"Thank you for keeping the senior group connected." 
"The recent picnic in the park was so refreshing. How great to meet each other outside our Zoom boxes!"
JOIN US
village@orami.org
TAKE 2 MINUTES TO WATCH OUR VIDEO TO SEE WHO WE ARE AND WHAT WE DO
Sunday December 11  – 11:00 am to 2:30 pm
Mitzvah Day 2022
Helping Young People Going into Emergency Foster Care by assembling 500 comfort bags. Open to the community!
Lunch after with the Village! Click Here to RSVP for Lunch 
Monday December 26  – 5:00 to 7:00 pm
Chanukah Potluck Dinner
Let's celebrate the last night of Chanukah together with a Potluck Dinner at the home of one of our Villagers. We will ask you to bring either one of your favorite holiday appetizers or dessert that can be shared. We will send out a list of possibilities and you can sign up for what you'd like to bring.
Bring your own Chanukiah and we'll light the candles together.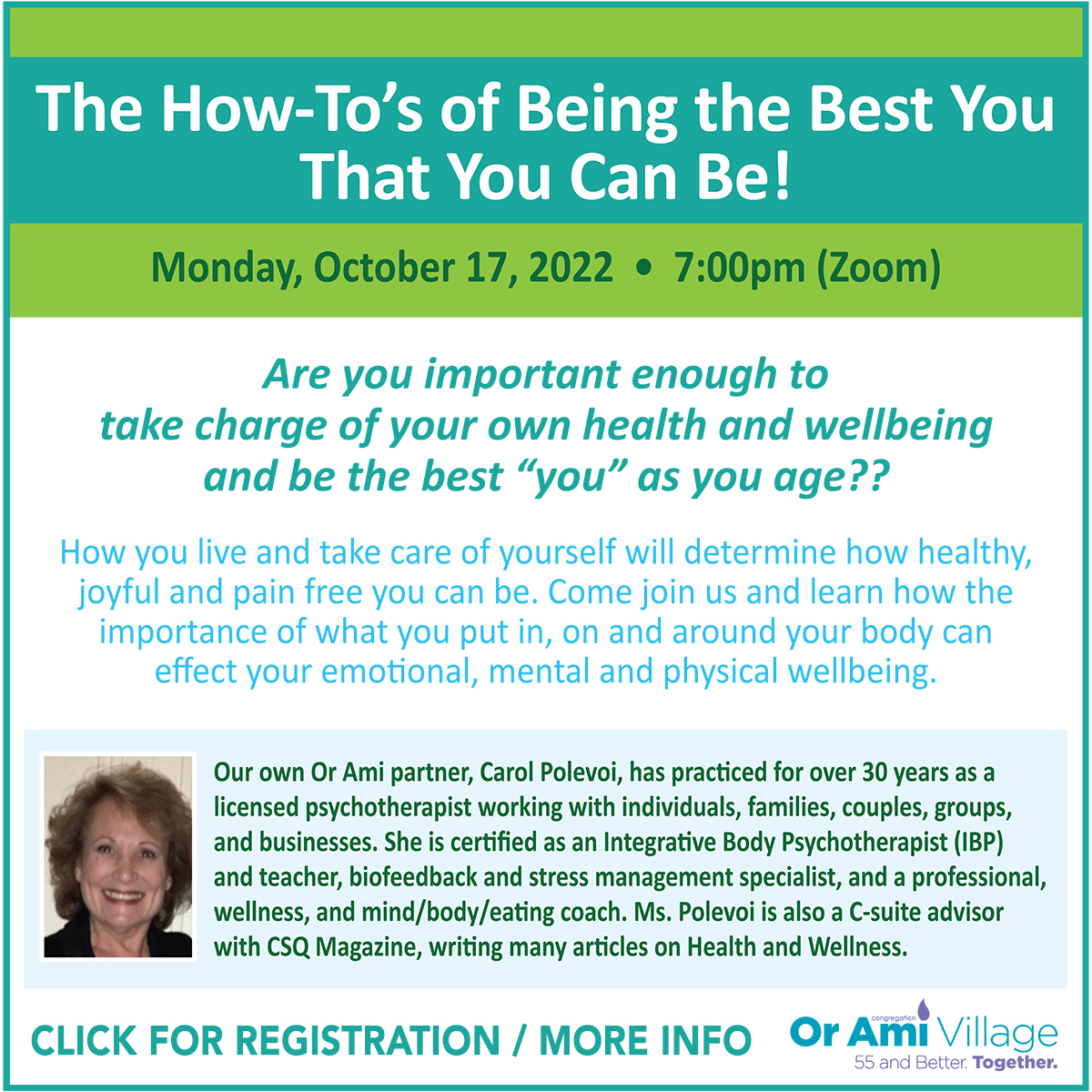 Postponed
The How-To's of Being the Best You That You Can Be

Are you important enough to take charge of your own health and wellbeing and be the best "you" as you age?? How you live and take care of yourself will determine how healthy, joyful and pain free you can be. Come join us and learn how the importance of what you put in, on and around your body can effect your emotional, mental and physical wellbeing.
Our own Or Ami partner, Carol Polevoi, has practiced for over 30 years as a licensed psychotherapist working with individuals, families, couples, groups, and businesses. She is certified as an Integrative Body Psychotherapist (IBP) and teacher, biofeedback and stress management specialist, and a professional, wellness, and mind/body/eating coach. Ms. Polevoi is also a C-suite advisor with CSQ Magazine, writing many articles on Health and Wellness.
Stay Tuned for New Date/Time