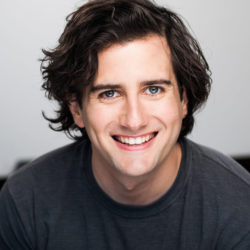 ANDREW FROMER'S BIO
Andrew Fromer, a Los Angeles native, grew up as an active member in the Jewish community through Stephen Wise Temple where he began his songleading career at the summer camps. He attended Windward School in Mar Vista for high school, and then moved onto his BFA in Theater at UC Santa Barbara with a minor in Jewish Studies, songleading at the local hillel on Friday nights as well as Congregation B'nai Brith's religious school. After graduation and then an exciting year of living in Israel, Andrew returned to LA and took a dive into acting and filmmaking, all the while continuing to songlead and teach in religious schools throughout the city. 
Andrew landed at Congregation Or Ami back in 2016, songleading on retreats and teaching in the religious school. Since then he has added a lot more roles, including managing this website, our newsletters and working with the youth programs. When Andrew is not at Or Ami, you can find him working with The Braid where he serves as Digital Manager, helping to produce unique and Jewish theatrical productions that travel all throughout Los Angeles and beyond.
He is so thankful to be with this loving, vibrant and welcoming community – he has certainly found a home in Congregation Or Ami for him, his wife Olya and his son Aiden.