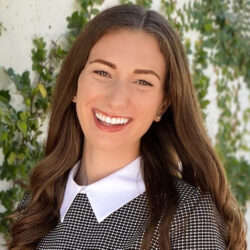 ANNA CALAMARO'S BIO
Anna Calamaro, a third year student at Hebrew Union College-Jewish Institute of Religion, serves as our Rabbinic Intern. A Chicago native, she received her BA from the University of Illinois at Champaign-Urbana in 2014. She then began a four-year career with Metro Chicago Hillel, inspiring college students to embrace Judaism as a fundamental part of their lives that can nurture and recharge them, motivate them to grow, and inspire them to live righteously. While working at Hillel, Anna completed her Master's in Jewish Education with a certificate in Experiential Education from Hebrew College.
Anna enrolled at HUC in 2018, spent a year studying in Jerusalem, and continued her studies in Los Angeles the following year. Before joining the Or Ami family, she spent a year as the student rabbi of Congregation Shir Ami in Castro Valley, and two years learning about the power of global Jewry as a JDC-Weitzman Fellow, where she traveled to Lithuania, Hungary, Russia, and beyond. Anna is currently satisfying her thirst for social justice through Bend The Arc as their Jeremiah Fellow.
Anna is thrilled and honored to join the Or Ami community, where tradition and innovation, past and present, individual and communal, particular and universal are all ingredients in affirming a living Judaism that is rooted and resonant. Anna enjoys singing and playing guitar, watching documentaries, and going on self-created food tours with her wonderful husband, Yaakov. They live in West Hollywood with their ironically happy dog, Kafka.