Update June 30, 2022
We are planning some musically wonderful experiences for our upcoming Shabbat schedule. Fantastic guests and services ranging from the traditional to the unique and everything in between. Check out the Musical Menu below that we have put together and see for yourself!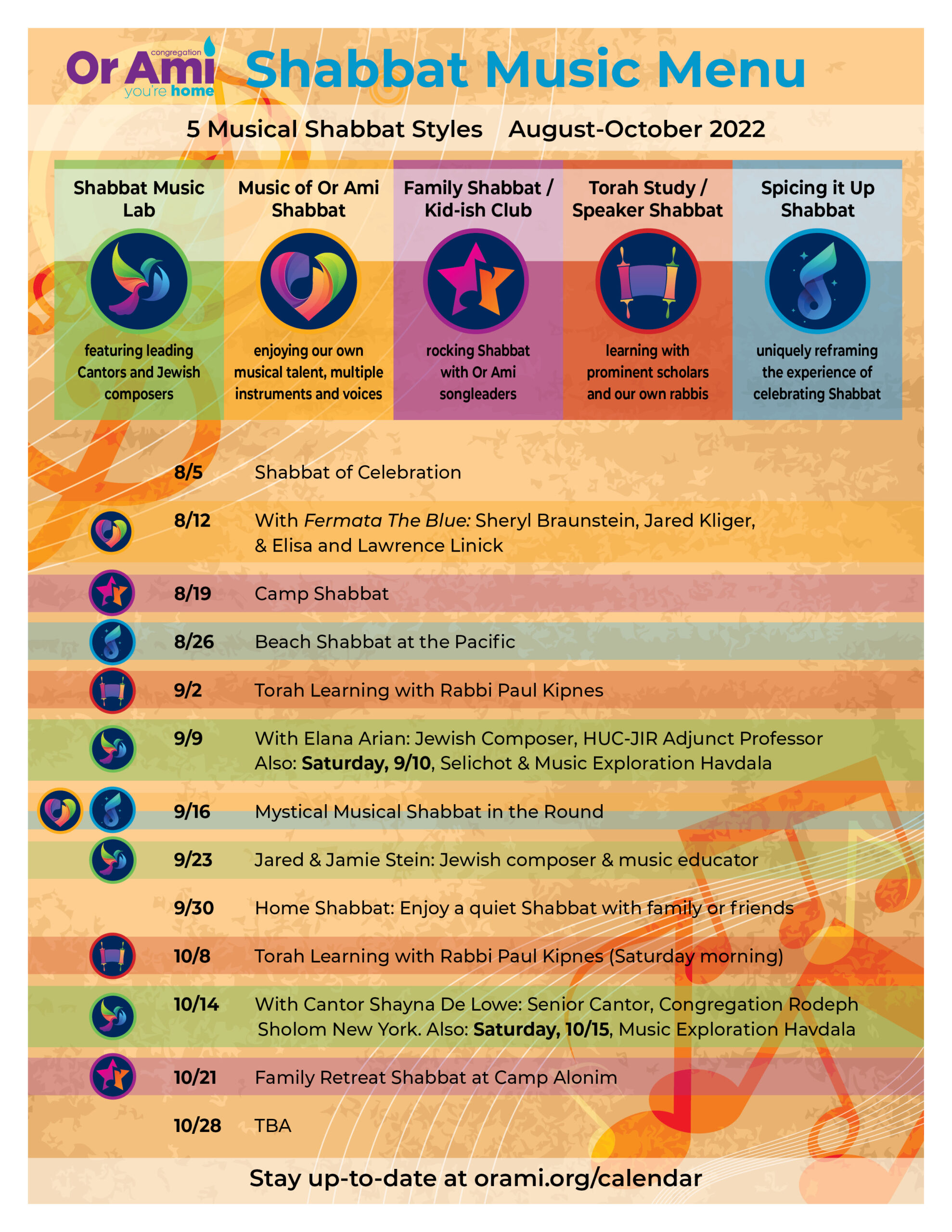 Letter to the Congregation April 14, 2022:
Dear Or Ami Family,
March 26th was bittersweet as Congregation Or Ami honored and celebrated Cantor Doug Cotler's music, life, and legacy. Amongst tears and laughter in the theater, we took another step to mark the transition toward retirement of Or Ami's founding clergyperson. If you missed the concert or want to relive those beautiful moments again, watch our video at orami.org/ONE. Additionally, please save Friday, June 24th, as we will celebrate Cantor Doug's final service as our cantor.
This is a major lifecycle moment for Congregation Or Ami filled with so many emotions: joy for the cantor's journey, sadness as we say goodbye, and warmth as we name him Cantor Emeritus. It also brings trepidation as we begin the next major step of our musical life: a year of transition and a search for our next cantor.
We would like to share Or Ami's plans with you, mapping out the background for our planning including a year of transition and next steps for the search of our next cantor.
More
Or Ami Cantorial Search Task Force
cantorsearch@orami.org
Marla Landis and Kevin Palm, co-chairs
Rabbi Paul Kipnes
Linda Blumenthal
Erin Mayer
Rachel Paul
Hugh Roberts
President Craig Steinhauer, ex-officio
Rabbi Julia Weisz, ex-officio
Marcy Balogh, Consultant