Update December 14, 2022
Announcing Or Ami's New Cantor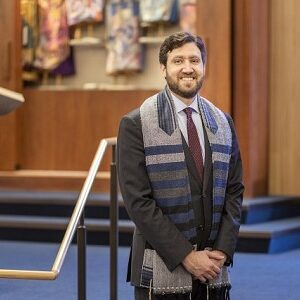 Over the past year, our community set out to explore the state of Jewish music with prominent cantors and Jewish composers, consult with faculty from our Reform Movement's Debbie Friedman School of Cantorial Arts, and learn about the cantorial hiring process from the American Conference of Cantors placement commission.
Even after this intentional and emotional year-long process, the Or Ami Cantorial Search Team – chaired by Marla Landis and Kevin Palm – faced a daunting task. This team was asked to find an inspiring, innovative person who could preserve the legacy of our founding cantor, Doug Cotler, while expanding our repertoire of music and meaning. We were asking them to find the person who would transform Or Ami into a center of music and Jewish culture to which people flock.
Using what we learned, our rabbis, president, Search Team and Listening Teams crafted rigorous interview schedules and listening sessions. This diverse group of congregants met wonderful candidates who helped us imagine what Or Ami's musical future could be, yet one person distinguished himself by his ability to create meaningful moments in a multitude of gatherings, by his warmth, and by the virtuosity of his voice and vision.
We are thrilled to announce that after a nationwide search, under the auspices and guidance of the American Conference of Cantors, we have engaged Cantor Rabbi Kyle Cotler to be the next cantor of Congregation Or Ami. We look forward to welcoming him as he begins his work at Or Ami on July 1, 2023.
Cantor Kyle, as we will call him, was ordained cantor by the Academy of Jewish Religion (AJR) in Los Angeles in 2015, and then continued his education to be ordained rabbi by the AJR in 2016. He is completing his fourth year as cantor at Beth Emet: The Free Synagogue in Evanston, Illinois. He previously served synagogues in La Mirada, CA and North Shore Synagogue in Syosset, New York, and during his seminary years interned at Stephen Wise Temple in Los Angeles. He has served as Head Songleader at Camp Hess Kramer (Malibu) and Camp Kalsman (Washington State). He loves teaching children, engaging with teens, and exploring Jewish meaning with adults and families.
Cantor Kyle, a fourth generation cantor and first generation rabbi, is the son of Or Ami's Cantor Emeritus Doug Cotler (and Gail Pettler). He grew up at Congregation Or Ami, where he became Bar Mitzvah and was Confirmed. We schepp nachas that one of our homegrown graduates returns to lead us and we are delighted that his breadth of experience and wide vision will lead us in wonderfully new directions.
We are excited to welcome and get to know Cantor Kyle, his partner Rachel and their dog Wishbone, as they get settled into the community in July. In the coming months, Cantor Kyle will meet with our clergy team to begin the process of planning for the High Holy Days, rejuvenating our Or Ami Chorale, and mapping out a vision for our shared future.
We want to express our heartfelt appreciation to our Cantorial Search Team – Marla Landis, Kevin Palm, Craig Steinhauer, Linda Blumenthal, Erin Mayer, Rachel Paul, Hugh Roberts, Rabbi Julia Weisz, Rabbi Paul Kipnes, and consultant Marcy Balogh – for completing the monumental task of ensuring our musical legacy and future. We also thank the American Conference of Cantors for providing a clear process and pathway, which our Team followed fully, to bring us to this shehecheyanu moment.
Baruch Ata Adonai Eloheinu Melech haolam, shehecheyanu v'kiyemanu v'higianu lazman hazeh. We thank the Holy One of Blessing, for giving us life, keeping us grounded, and leading us to this holy moment.
If you have any questions about our process and decision, please do reach out.
Warmly,
Rabbi Paul Kipnes
Craig Steinhauer, President
A Note From Cantor Kyle:
Dear Congregation Or Ami,
I am thrilled to rejoin this wonderful community as Or Ami's next cantor. After seven years away in New York and Chicago, I can't imagine any place I'd rather be than working at my "home" congregation, the community in which I grew up, studied to become a Bar Mitzvah, and helped form the youth group, LoMPTY.
The warmth and cordiality I experienced with the Cantorial Search Task Force made the process and the congregation feel so inviting and exciting. I'd like to thank the Cantorial Search chairs, Marla Landis and Kevin Palm, the entire Cantorial Search team, and Or Ami President Craig Steinhauer for creating such a wonderful experience throughout the process. I appreciated meeting and interviewing with all the thoughtful people involved.
Over the next few months until I make my exodus from Chicago back to Los Angeles, I will be working with the clergy team to onboard. I am thrilled at the prospect of continuing the legacy Cantor Doug Cotler (aka Cantor Cotler 3.0) began over two decades ago. Or Ami has a strong reputation for creating stirring music, deepening Jewish spirituality, and pursuing social justice; central passions of mine.
But most of all, I am excited to meet YOU! There are so many bonds I have with folks at Or Ami that I look forward to strengthening and so many new connections I am looking forward to making. Words cannot begin to express the joy and anticipation my family and I are feeling. Thank you again for believing in me and my vision.
Warmly,
Cantor Kyle Cotler
Update June 30, 2022
We are planning some musically wonderful experiences for our upcoming Shabbat schedule. Fantastic guests and services ranging from the traditional to the unique and everything in between. Check out the Musical Menu below that we have put together and see for yourself!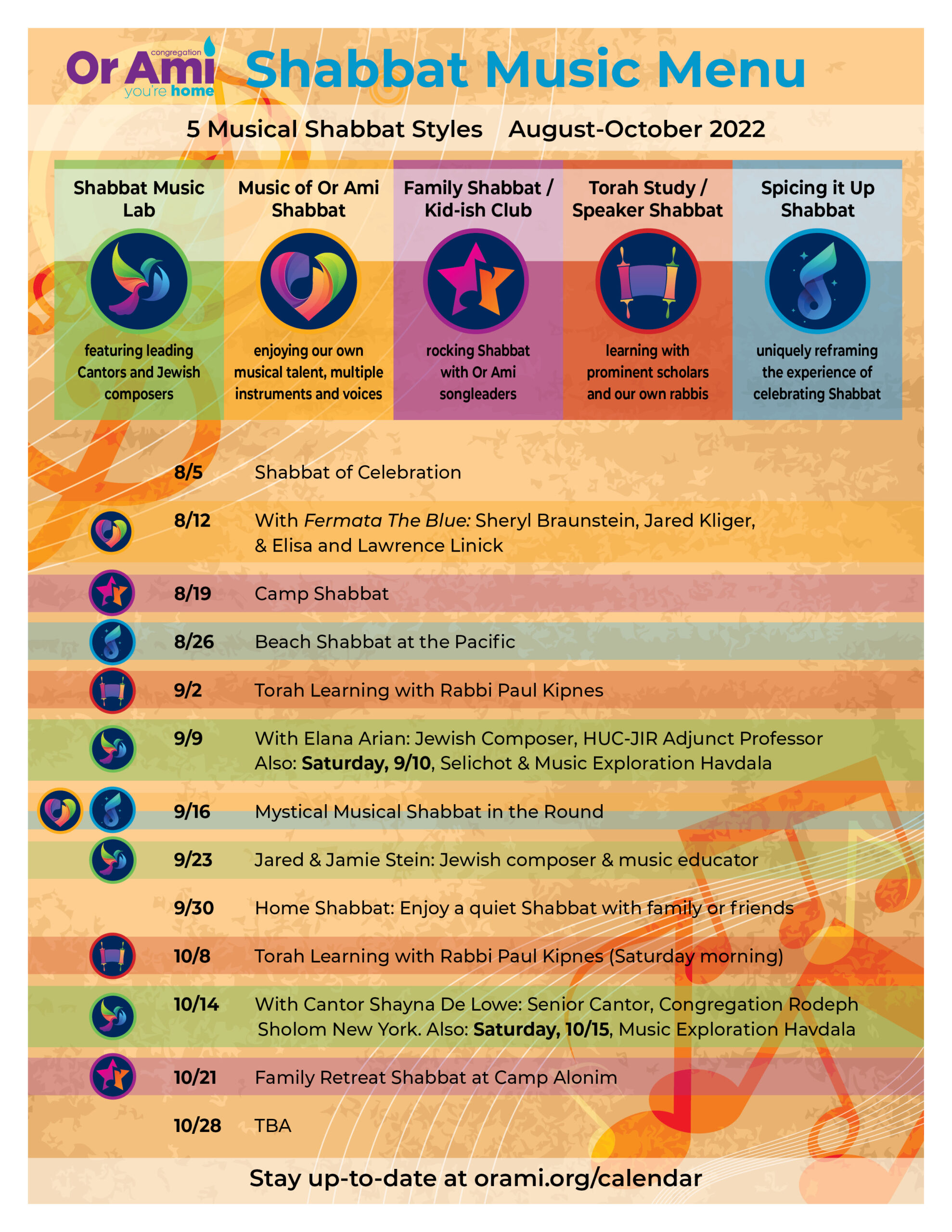 Letter to the Congregation April 14, 2022:
Dear Or Ami Family,
March 26th was bittersweet as Congregation Or Ami honored and celebrated Cantor Doug Cotler's music, life, and legacy. Amongst tears and laughter in the theater, we took another step to mark the transition toward retirement of Or Ami's founding clergyperson. If you missed the concert or want to relive those beautiful moments again, watch our video at orami.org/ONE. Additionally, please save Friday, June 24th, as we will celebrate Cantor Doug's final service as our cantor.
This is a major lifecycle moment for Congregation Or Ami filled with so many emotions: joy for the cantor's journey, sadness as we say goodbye, and warmth as we name him Cantor Emeritus. It also brings trepidation as we begin the next major step of our musical life: a year of transition and a search for our next cantor.
We would like to share Or Ami's plans with you, mapping out the background for our planning including a year of transition and next steps for the search of our next cantor.
More
Or Ami Cantorial Search Task Force
cantorsearch@orami.org
Marla Landis and Kevin Palm, co-chairs
Rabbi Paul Kipnes
Linda Blumenthal
Erin Mayer
Rachel Paul
Hugh Roberts
President Craig Steinhauer, ex-officio
Rabbi Julia Weisz, ex-officio
Marcy Balogh, Consultant