Family Mitzvah Club presents Lemon Picking with Food Forward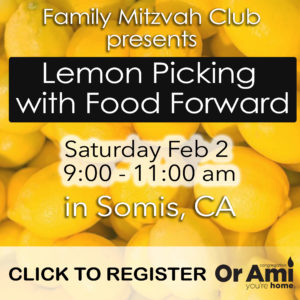 Please note, each member of the family needs to be signed up individually
Come harvest with us!
WHEN: Saturday February 2, 2019, 9:00 – 11:00 am
WHERE: Somis, CA
Join us for lemon picking in connection with Food Forward! A great way for families to spend time outdoors while performing a mitzvah! Food Forward collects fresh fruits and vegetables that would otherwise go to waste and donates it to 8 hunger relief agencies across Southern California.
Our backyard event will be at a home in Somis (address to be provided upon sign up) on Saturday February 2, 2019 from 9:00 to 11:00 am.  Kids 5 and up are welcome.
Please note, each member of the family needs to be signed up individually
CLICK HERE TO REGISTER
Safety Tips
Please note that the event goes on, rain or shine! If the Pick Leader cancels due to weather, you will be notified on the day of the event.
Bring water and stay hydrated. Be sure to take breaks during the harvest, especially when the weather is hot.
Wear non-slip, closed-toed and soled shoes, and sunglasses or protective eyewear. We also recommend wearing long pants, lots of sunscreen and a hat.
Ladder safety: Ladders can only be used by volunteers 18+ and those who are comfortable with heights and climbing. The Pick Leader will have further ladder instructions at the event.
Each property we harvest at is unique! Please be conscientious of other volunteers and use the harvesting equipment as directed by the Pick Leader.