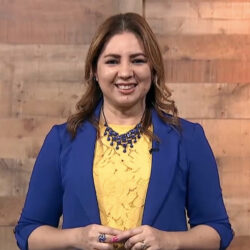 ICELA ALCALA'S BIO
Icela Alcala (pronounced: "ee-say-la") is the Executive Assistant to Rabbi Paul Kipnes and provides support to the entire Congregation Or Ami community. An energetic and inventive self-starter, Icela is known for her ability to integrate a deep understanding of business, and economic, cultural, and spiritual factors, in her daily life as a professional, and as a mother and wife. She loves working with diverse groups while inspiring confidence at all levels.
Icela lives with her husband Gerry, and their daughter Kayla, son Sebastian, and a beautiful Husky dog called Luna. There is nothing more important to her than God and family.
In her free time, Icela loves organizing get-togethers with family and friends. She also enjoys reading, traveling, dancing, cooking, and making and editing videos of wonderful memories to share with all her loved ones to bring big smiles and joy to their hearts!
Icela is excited to support the warm community of Or Ami.