Kvell and Tell – December 1 2020 – #ThankYouTuesday: Rabbi Paul Thanks You!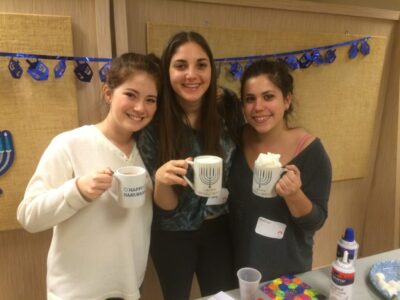 Dear Or Ami Family,
On this #GivingTuesday, rather than ask more of you, I'm taking this opportunity to share how grateful we are for YOU – our partners, our extended family, our friends – and for all that you give to our synagogue and the greater Jewish community. For all of us here at Congregation Or Ami, this is not #GivingTuesday, but instead it is #ThankYouTuesday, a day on which we thank you for all the ways you support the Congregation Or Ami and each other.
Even in the midst of such uncertainty, loss, and disruption, there is much for which to be thankful. At this particular moment, nine months into the pandemic, I am so deeply grateful for all the ways that you show up for each other and for Congregation Or Ami and our surrounding community. What we have managed to accomplish together in these nine months would have been unimaginable back in March, and yet, with your encouragement and support, here we are today.
Thank you for believing not just in who we have been as Congregation Or Ami, but in who we could become in a time of crisis.
Thank you for your help in sustaining the synagogue and our holy work, so that we could better support our partners with the programming, pastoral support, online gathering and education, and resources that were needed in this unexpected time.
Thank you for saying Henaynu (we are here!) to help and guide each other, being the hearts and hands of our Henaynu Caring Community, helping each other in this incredibly tough time.
Thank you for asking for help, and for offering help. Thank you for supporting each other and for supporting our staff and clergy.
Thank you for kvelling (sharing the praise), and for kvetching kindly, showing us patience when we didn't get something right and for lovingly helping us do better.
Thank you for showing up for High Holy Days and creating community in the best way we could under the circumstances, and then for your generous outpouring of appreciation for what the High Holy Days provided.
Thank you for using the computer and phones and tablets to find ways, despite the physical distance, to reach out to those in mourning, those celebrating, and those needing our care.
Thank you for modeling resilience, even when you were exhausted, afraid, or anxious.
Thank you for managing the needs of your family, your community, and yourself, for striving for balance even when it feels impossible, and thank you for the courage to say out loud how hard it is.
Thank you for exhibiting generosity and love for each other and for Or Ami in this challenging time.
Thank you to all of you who make Congregation Or Ami's sacred work possible through your generosity of time, energy, talent, and financial resources. 
And thank you for the manifold and meaningful ways you serve Or Ami, including: 
Serving as Or Ami officers and members of the Board of Directors

Volunteering as committee and project chairs and members

Making calls to other congregants, to support them through

Worshipping with us during High Holy Days 5781


Participating in the High Holy Day or Chanukah productions, as producers, singers, readers, Torah

chanters, candle lighters, and more

Prioritizing Tikkun Olam (social justice), even when you were struggling

Participating in our Drive Thru experiences – High Holy Days, SOVA Sundays, Sukkot Drive Thru-lav, Simchat Torah's Living Torah Car Rally – and for signing up for the upcoming Winter Wonderland Chanukah Celebration

Taking part in our programs, social action projects, and worship services to nurture your soul  

Commenting upon and sharing our social media to expand our reach  

Leading in the Village, LoMPTY, Sukkat Shalom, Henaynu, Social Action and more

Donating to our High Holy Day Appeal, our Emergency Tzedakah Fund and/or as sponsors for our Drive Thru programs


And, most importantly, for being kind, compassionate, justice-seeking, truth-pursuing people, who make the light of Or Ami shine brightly. 
Thank you for your support through this incredibly difficult time of disruption and uncertainty, giving each other hope as we all dealt with trauma, fear, and grief, even as you have dealt with your own losses.
I know the toll this time has taken on us collectively and individually. I am so grateful that despite all that, you make the time to give of yourself to our congregation and the larger community through your support of Congregation Or Ami. 
I am so proud to be your rabbi. I am inspired by your caring every day. Thank you.
With gratitude,
Rabbi Paul Kipnes
With thanks to my teacher and friend Rabbi Hara Person, Chief Executive of the Central Conference of American Rabbis, for her continued inspiration and leadership