Kvell and Tell – February 10 2020 – NewGround: A Jewish-Muslim Partnership for Change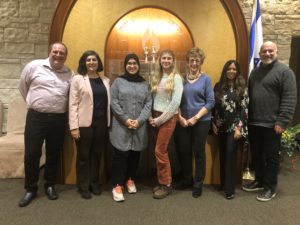 NewGround: A Jewish-Muslim Partnership for Change
by Myron Dembo
 Congregation Or Ami's Center for Jewish Learning recently sponsored a program with NewGround: A Jewish-Muslim Partnership for Change. Founded in 2006, NewGround is creating a national model for healthy relations, productive engagement and social change between American Muslims and Jews. The focus of the program is to learn to appreciate each other's differences.
One of their programs, Muslim and Jews Inspiring Change (MAJIC), gathers a select group of Jewish and Muslim teens who begin the year with a fall retreat and meet twice a month to learn about themselves and their peers and how organizations in their communities respond to major social issues. Their views are shaped by discussing different issues in pairs and small groups led by adult group facilitators, and working on educational and social projects throughout the year. Graduates of the program shared deep learning about embracing differences and transcending boundaries. 
Many attendees entered Or Ami's sanctuary prepared to listen to presentations about Jewish-Muslim relations. However, we were surprised when asked to pair up with a person we don't know and to speak to each other about: An experience where you felt gratitude for something someone did for you. The ground rules were that we could not interrupt or respond to what our partner said. Our only responsibility was to listen. After two minutes, the other partner responded to the same question. A second topic was then introduced: Share an experience where you were impacted by someone with a different background from you. The purpose of these activities was to illustrate the program's emphasis on teaching participants how to listen.
One adult attendee was paired with a young girl from the MAJIC program who explained that she was raised in a Reform Jewish background. During one of her first MAJIC sharing sessions, she met another peer who was raised in an Orthodox Jewish environment. It was clear that they experienced Judaism differently. Initially, it was difficult for each to understand their different life experiences. However, after months of a learned listening process, they came to understand and respect their different ways of experiencing Judaism. The year-long dialogue between these students illustrated that not only Jews and Muslims need to learn to respect each other, but they also learn that there are many ways for Jews and Muslims to understand the differences within each of their own religions.
The program's co-director, Andrea Hodos, emphasized that learning how to listen is a key attribute when moving from a position of fearing differences to ultimately appreciating the benefits of differences. This deep process takes a great deal of practice, especially since researchers report that we remember only between 25% to 50% of what we hear. Listening is a skill that must be learned just like any other skill. Ms. Hodos showed a video of students commenting how their improved listening skills helped them to understand themselves and others with different religious and life experiences. The activities used in the program have important implications for developing programs dealing with conflict resolution, and appreciating cultural and religious differences.
Visit the program's website at mjnewground.org to learn more about their many activities.