Kvell and Tell – February 9 2023 – Thrive Scholars
The following is a newsletter feature from Thrive Scholars
During the pandemic, Congregation Or Ami hosted an online information session with 
Thrive Scholars
(then called SCS Noonan), an organization dedicated to providing high-achieving students of color from low-income communities the opportunities they need to thrive at top colleges and in meaningful careers. Congregants Debby and Davidson Pattiz hosted the zoom session for congregants interested in training and becoming mentors. We are kvelling about this article about congregant Franny Baldwin and her mentee Liliana…
Mentor Spotlight: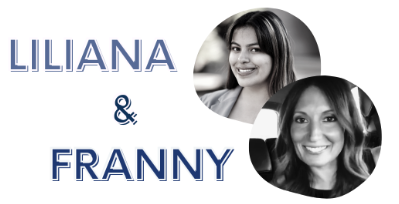 Liliana originally started her college journey considering a degree in journalism, but after participating in UCLA's Riordan college to career program, she was exposed to the business world and developed an interest for the entertainment industry. That fall she requested a mentor with the goal of learning more about the entertainment industry, securing internships, studying abroad, and expanding her network.
Liliana was matched with Thrive Mentor and Producer at Abominable Pictures, Franny Baldwin via Thrive's Mentorship Project-Cycle in late 2020. After the initial project-cycle, the pair spent the remainder of the academic year introducing Liliana to a range of professionals in the entertainment industry including, Directors, Music Supervisors, Producers, and more! The duo even got to meet in person for the first time
in summer '21 when Franny recruited Liliana to work as a Production Assistant on the Scooby-Doo Reunion Special with Warner Brothers and the film I Love America for Amazon.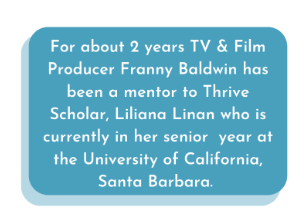 Liliana was able to enter her junior year with two major studio productions and an internship with Discovery under her belt. But most importantly, Liliana was able to explore countless options through her mentor's network as she gained clarity and confidence in entering her industry of choice. Liliana has since studied abroad in France and wrapped up another successful internship this past summer with NBCUniversal where she shared, "I feel prepared for a career in the entertainment industry, and am excited to see what the future holds." Check out their exciting feature in the Brookings Institution report: "Who You Know: Relationships, networks and social capital in boosting educational opportunity for young Americans."