Kvell and Tell – October 21 2019 – Men's Night Out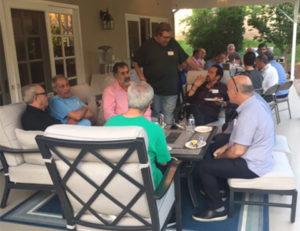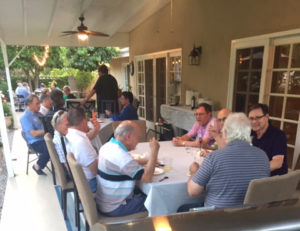 When we first created Men's Night Out at Congregation Or Ami, we hoped that an occasional gathering of men would lead to friendships and meaningful conversations. Over the years, Men's Night Out has succeeded in that and more. When the men from Jewish families gather at a congregant's home, we schmooze (kibbitz or talk), eat a light but tasty meal, and connect over shared interests, work or just being men from Jewish families. Each gathering includes a deep conversation with Rabbi Paul Kipnes about engaging topics, including how to respond to antisemitism, being a father/son, how do we define success, creating civil conversations in a polarized world, and what does it mean to be a man today. Each gathering attracts men from age 28 to 88, which has provided fascinating connection that transcends age and generations.
At the conclusion of Men's Night Out, Rabbi Kipnes randomly divides the participants into troikas (groups of 3 men) who pledge to get together in the next month for breakfast, lunch, or a drink. These troikas have led to lasting friendships, new business connections, and deeper connections to the congregation. Head to orami.org/rsvp to find out about each future Men's Night Out.