Kvell and Tell – September 23 2021 – I Visited My Dad Today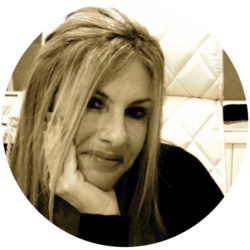 Please enjoy this moving reflection on the High Holy Days, written by Stephanie Blau.
I visited my dad today,
He hasn't changed at all.
He looked like I remember him,
When I was young and small.
I visited my dad today,
He wore the biggest smile.
"Where were you when I needed you
To walk me down the aisle?"
I sat with my dad today,
My eyes streamed with tears.
I filled my dad on what's he missed,
These past 35 years.
I held my dad's hand today,
And told him about my kids.
I said I wish you knew them too,
He said he already did.
I cried with my dad today,
My head was on his shoulder.
My dad is still the same young man,
But I am getting older.
I sat with my dad today,
During Yizkor service on zoom.
I was transported back in time,
To my childhood living room.
I sat with my dad today,
In silence as we cried.
The minute that my dad stood up,
We had to say goodbye.
I sat with my dad today,
And begged him to stay.
He kissed me on the cheek once more,
And then he walked away.
I'm sitting in my house today
With my family,
A loving husband, three beautiful children,
And Congregation Or Ami.
I'm praying with a community,
Together we mourn in grief.
A familiar pain for some of us,
For others disbelief.
I'm sitting here with everyone,
With open vulnerable hearts.
Atoning for all past sins,
And welcoming new starts.
I'm standing on the shoulders,
Of those who came before.
I'm standing with Or Ami,
A home and so much more.