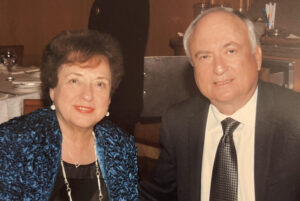 Congregation Or Ami Announces $130,000 Endowment: The Myron and Nancy Dembo Social Justice Initiative
Funding will support social justice awareness, activism, and education programs
Calabasas, CA. –Rabbi Paul Kipnes, spiritual leader of Congregation Or Ami, and Craig Steinhauer, its president, announced today the creation of the Myron and Nancy Dembo Social Justice Initiative, a $130,000 endowment for social justice programming and initiatives at the Calabasas Reform Jewish congregation. The Initiative was developed to respond to existing social, economic, and cultural inequities and our Biblical imperative to care for the most vulnerable. By placing these funds into an endowment fund, the Dembo family's generosity will be felt for many generations. 
"Throughout our lives we have observed many social problems in society," said Myron and Nancy Dembo. "In many ways, the Covid pandemic highlighted these disparities in healthcare, food insecurity, housing, and even the explosive growth of antisemitism. We both strongly believe that social justice is the key to our democracy and that Congregation Or Ami has the potential to lead nonprofit organizations in education, training, and social action. We hope our endowment may be used to influence other similar donations in social justice and related areas by other congregants."
"Myron and Nancy Dembo are beloved longtime social justice advocates in the Los Angeles Jewish community and cornerstone members of our Sukat Shalom organizing team addressing housing insecurity in Southern California, said Rabbi Kipnes. "Congregation Or Ami is very appreciative to the generosity of the Dembos, and this Initiative allows us to expand our education and advocacy efforts to address the many social and economic injustices present within our society. We are excited to help prepare the next generation of adults and youth to apply Jewish values to societal challenges."  
Congregation Or Ami is known nationally for its work in social justice, earning two prestigious North American Fain Social Justice awards. Community members participate with Or Ami to volunteer in its social action efforts. In the past 5 years, Congregation Or Ami has created interfaith partnerships to address societal problems and donated a truck to Food Forward to reclaim more than 32 million pounds of surplus food; developed a series of mental health and wellness programs for teens and mentoring activities for at-risk youth, and donated a van to help the unhoused, runs trainings on Racial Diversity, Equity, and Inclusion. The synagogue also sends large delegations of congregants to Sacramento and Washington DC to advocate on the pressing issues of our day. 
"This endowment will allow our work to grow exponentially." Said Craig Steinhauer, President of Congregation of Or Ami. "With these funds, Congregation Or Ami will create programming for congregants of all ages about the Jewish foundation of social justice and how to utilize Jewish texts and values for Tikun Olam (repairing the world)."
To join the Dembo's in this initiative or to set up your own endowment fund for a purpose you care about, contact Rabbi Paul Kipnes.