You can help
by donating these items!
In particular, we have a strong need for books, decks of cards and blankets for our foster children comfort bags. Let us know if you can bring any of these items by emailing laurietb@orami.org
You can help
by volunteering!

Your help is needed! Setting up tables, bringing snacks, running stations and more. Click below to see how you can help us make Mitzvah Day another huge success!
QUESTIONS? Please contact Mitzvah Day Volunteer Coordinator Debbie Cutter (cbcautism@sbcglobal.net or 818-620-8844) with any questions about volunteering.
You can help
by Adopting-a-Bag!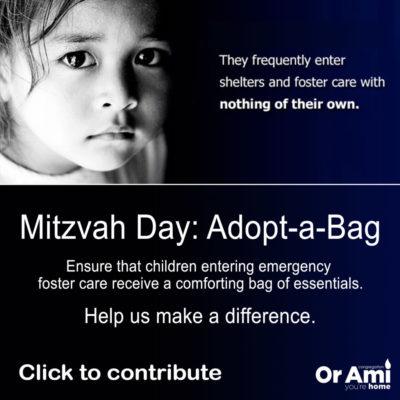 In November, Or Ami congregants will pack hundreds of comfort bags for children going into emergency foster care. One of the ways you can make a significant difference is by contributing $50 to the Adopt-a-Bag program. This will ensure that each child receives all items (e.g., blanket, stuffed animal, school supplies, journals and much more).
Know you've made a difference.
Questions? Contact Laurie Tragen-Boykoff