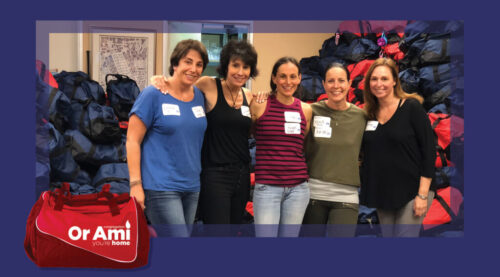 Sunday, December 5, 11:00 am - 1:00 pm
Helping Young People Going into Emergency Foster Care
Join us to assemble 500 comfort bags for youth entering emergency foster care. Sunday, December 5, 11:00 am – 1:00 pm. Open to the community. No RSVP required. Mitzvah Day will be held outdoors. Masks are required for all participants, regardless of vaccine status.
Want to get more involved?
Sponsor a Comfort Bag or 2 or 3


Donate $50, you can sponsor each Comfort Bag. Visit orami.org/donate and select "A Mitzvah Day Comfort Bag Sponsor"

Sign up to Volunteer to help set up

(in the days before), run mitzvah day, or help clean up.

Items Needed Include:
We are no longer accepting items for donation. Thank you to all who purchased items from our Wish Lists, donated books and other items for the comfort bags, and volunteered their time.
Toiletries
Shampoo
Conditioner
Hair Brushes
Deodorant
Child's Dental Hygiene Pack
Apparel
Flip Flops (Rubber, Assorted sizes for ages 5 – 17)
School Supplies
Backpacks (17 in. or larger)
Spiral or Composition Notebooks (Wide and Composition Ruled)
Blue or Black Pens
Colored Pencils
Pencil Sharpeners
Folders
Pencil Pouch
Highlighters
Other
Small, handheld games, craft kits, etc.
Medium Stuffed Animals
Coloring Books
Activity Books (for teens)
Juvenile-themed Nightlight
Books for Ages 14-17
Vacuum-Packed Standard Pillows or Toddler Pillows
Small Fidget Toys/Pop-Its
We Thank Our Amazing Sponsors
Mitzvah Day Platinum Sponsors
Anonymous
Comfort Bag Gold Sponsors
Joel and Sandee Greene
Jeffrey and Donna Hennes
Scott and Gaynor Rabin
Ike and Brooke Praw
JoAlla Gold
Blessed Bulk Item Sponsors
Rob Gerard – Crayons
Sari and Gordon Gassner  – Blankets
Nina and Jerome Treiman – Flipflops
Cathy Spencer – Personal Hygiene Products
Anonymous – Pillowcases
Ken Meyer – Journals
Individual Bag Sponsors
Abrams, Richard & Terry
Alexander, Lenore
Baim, Barbara
Boykoff, Terry & Tragen-Boykoff, Laurie
Feinberg, Ashley & Sam
Gluck, Gary & Rochelle
Gorlick, Curt
Gruber, Fred & Susan
Hiskey, Mark & Shelly
Jacobs, Elizabeth & Lerma, Diana
Kabakoff, Alan & Lyn
Kass, Christal & Jim
Kaye, Mitchel
Labowitz, Laura & Ari
Rabbi Wendy Spears & Eitan Ginsburg
Rothenberg, Nancy
Silverstone, Elissa
Somers, Bonnie & Ross J.
Ulise, Dana & Todd
Weisman, Ellen
Weisz, Vera
Wolinetz, Jennifer & Geoff