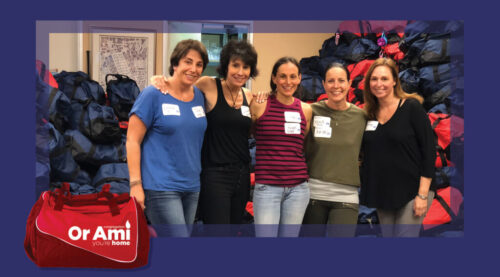 We are packing bags Sunday RAIN or SHINE!
Sunday, December 11, 2022 | 11:00 am - 1:00 pm
Helping Young People Going into Emergency Foster Care
Join us to assemble 500 comfort bags for youth entering emergency foster care. This year, the need is greatest for ages 11-17. Sunday, December 11, 11:00 am – 1:00 pm. Open to the community. No RSVP required.
Want to get more involved?
Volunteer to staff a station

or help with set-up or cleanup. Click here to view the Sign-Up!

Sponsor a Comfort Bag or 2 or 3

A $50 donation = 1 filled Comfort Bag!

Visit 

orami.org/donate

 and select "A Mitzvah Day Comfort Bag Sponsor"

Any donation amount is welcome.

Visit our Wish Lists

to purchase much-needed items!

Amazon Mitzvah Day Wish List
Target Mitzvah Day Wish List


SignUp Genius Donations Wish List
Items Needed Include:
Thanks to the generosity of the Or Ami Community, all wish list items have been purchased!
Apparel
Flip Flops (Rubber, Assorted sizes for ages 11 – 17)
T-shirts (Assorted adult sizes)
Socks (Adult sizes)
School Supplies
Backpacks (17 in. or larger)
Spiral or Composition Notebooks (College Ruled Only)
Blue or Black Pens
Colored Pencils
Pencil Sharpeners
Folders
Pencil Pouch
Highlighters
Other
Medium Stuffed Animals
Activity/Coloring Books for teens
Books for Ages 11-17
Small Fidget Toys/Pop-Its
White Pillowcases
We Thank Our Amazing Sponsors
Comfort Bag Silver Sponsors
Shirley Newman

Mitzvah Day Platinum Sponsors
Your Name Here
Comfort Bag Gold Sponsors
Your Name Here

Blessed Bulk Item Sponsors
Sari and Gordon Gassner – Blankets
Nina and Jerome Treiman – Flip Flops
True Classic – T-shirts
Marsi and Brad Gore – Books
Cathy Spencer and Scott Harris – Period Products
Aunt Flow – Period Products
Moosh-Moosh – Stuffed Animals
About My Father's Business – Socks
Linda and Glenn Levie – Books