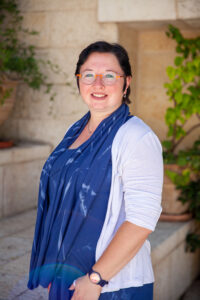 It's about the journey
Searching for my own identity is a very central part of my life. Questions like: Who am I? and Where do I belong? have been present in my life since the day I was born.
Five years ago, a week before Passover, during the first year of Rabbinical school, I found myself on a spontaneous visit to my birth town, Moscow, together with my mother, my aunt, and my cousin. This visit provided three very meaningful days of reflection. The day after our arrival, I got up early and walked by myself to the great Synagogue of Moscow. It is the only synagogue that was opened through the entire Communist regime during the existence of the Soviet Union.
This one synagogue captures three generations of my family history. My grandparents were married in this synagogue in 1950 in a traditional Jewish wedding. I still cherish the ketubah they signed under the chuppah. My father read Torah on the bimah of this synagogue in 1965 on the day he became Bar Mitzvah. When I was born in 1982, I was registered in this synagogue as a new member of the Jewish people and was given the Hebrew name Shifra.
During my visit in 2018, this synagogue was one of many active synagogues in Moscow. While several hundred men who came to daven (pray) the morning prayer, I sat alone on the women's balcony with my entire history spread out in front of me. I tried to imagine sitting next to my Saba (grandfather) Shimon, who died when I was only one, and next to my beloved Abba (father), whom I lost almost eighteen years ago when I was only 23. What would they say about my life journey, about the choices I made, and about my becoming a Reform Rabbi?
Why did I choose to be a rabbi?
I love people, I treasure life stories, and I am both humbled and inspired when I have the chance to touch someone's heart. I want to be there for people as they embark on their Life Journey, and especially their Jewish Journey.
In our world, to ask ourselves the question "Who am I?" takes a lot of courage. Such questioning can also be a very lonely experience. I believe that every person should have the opportunity to discover who they are without feeling alone while they do that. As a rabbi, I strive to be helpful to people on their journey of discovery of themselves. I seek to be that someone that people can lean on, trust, and from whom to derive strength and support.
I teach that the letters of the word "I" in Hebrew, "Ani", stand for three simple ideas: "Ahuv" – loved, "Nahutz" – needed, and "Yachol" – capable. Every single one of us wants to feel ahuv (loved), nahutz (needed) and yachol (capable). Helping people see these three elements within themselves is a significant focus of my rabbinate.
Being Jewish in this day and age
I knew that I was Jewish from the day I was born, but I am not sure I understood what that meant. As a child in the Soviet Union, being the only Jewish kid in the entire school, I suffered a great deal of antisemitism. Making aliyah to Israel in 1990, when I was eight, brought a new set of challenges. In the Soviet Union, I was considered a Jew but not really a Russian. In Israel, I was considered "Russian." This new imposed identity made me want to be the best Jew I could possibly be.
Being born Jewish is not enough. I believe that every Jewish person today – whether in America, Israel, or elsewhere – needs to make the choice to be Jewish. It is an active decision. Choosing can happen to children who discover their Judaism through educational programs, to teenagers that discover Jewish values they feel connected to, and to adults who are looking for deeper meaning of life and engage with profound Jewish learning. I am a rabbi who wants to embrace every single 2 one of these life stages and support people who make this active choice of being Jewish in the twenty-first century.
My own Judaism and my rabbinate
My Judaism and rabbinate are based on profound Jewish values including: Zicharon – memory (history), mishpacha – family (peoplehood), brit – covenant, Eretz Yisrael v Medinat Yisrael – the land and the State of Israel, Ivrit – the Hebrew language, as well as music, prayer, education, social justice, activism, interfaith dialogue, and love for all people.
I am considered a deep thinker who strongly believes in the power of education. I think our world cannot exist without music. I love people of all ages. I am very dedicated and committed to making this world a better place.
What am I looking for
I seek the opportunity to build lifelong relationships in a community that me and my family – my husband Daniel and our three children: Talya Doron (8), Shalev (6), Yahel (3), and my mom – can call home. I am searching for a place where I can be myself, grow, teach, inspire, and be there for people of all ages at their moments of joy and moments of sorrow. I work diligently to form and maintain strong relationships to the Jewish people, to the State of Israel, and to the world. I hope to make lifelong memories based on meaningful experiences of prayer, learning, life circle events, travel, and tikun olam. I want to make a difference in this world, and I hope to do it together with you.