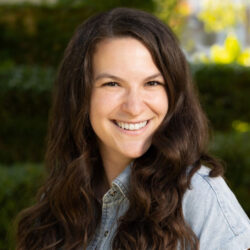 RACHEL ALTFELD'S BIO
Rachel Altfeld was born and raised in Jackson, Tennessee but has totally been converted into a West Coast gal after spending the last 5 years in California.
Rachel's love for Jewish education started at a young age and was influenced by her experiences in her regional NFTY youth group and during many summers at Jewish summer camps – URJ Henry S. Jacobs Camp in Utica, Mississippi, URJ Kutz Camp, and on staff at URJ Camp Newman  in Santa Rosa, CA. Rachel believes that growing up in such a small Jewish community has given her an even greater appreciation for the power of Judaism and Jewish community to inspire and give meaning.
Rachel has significant experience in synagogue youth work, camp, religious school, and family education and she loves working with people of all ages. While earning a Masters Degree in Educational Leadership from Hebrew Union College-Jewish Institute of Religion, Rachel created and directed Camp Sababa, an outstanding Day Camp at Temple Judea. Rachel also served on Or Ami's faculty in our Kesher learning program.
An educational leader who believes that the work of Jewish education is about impacting and elevating people's lives and helping them to learn and grow as Jewish people, Rachel is committed to creating spaces where students, led by compassionate and encouraging leaders, are motivated to care about Judaism.  Rachel recently said, "My vision for Jewish education comes from deep care for the future of my learners' involvement in Jewish life and a desire to provide Jewish experiences that are positive and memorable. I am especially drawn to the warm kehillah (community) at Or Ami and am thrilled that my values align so closely with Or Ami's most cherished values."
In her free time you can find Rachel exploring Los Angeles, listening to audiobooks, searching for the next best lavender latte, or trying to pet your cute puppy.