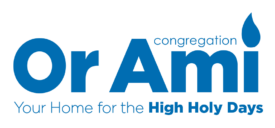 Letters to my Younger Self:
A Rosh Hashana Reflection Project in Preparation for the High Holy Days*
Have you ever wished you could stand right beside your younger self and whisper, "Don't worry—it's going to be ok"?
We've all been through difficult chapters. In the midst of them, maybe we felt things would never change: our broken hearts would never heal, our situation would never improve, our dream would never be realized. Yet somehow, over the course of months or years, we moved through the darkness, one step at a time. And now that we're older and wiser, we see things much differently.
Human beings have the capacity to endure and overcome immense challenges, to grow, heal, and change. We've done it before and we can do it again. Your story, posted on our website, will testify to that truth. Collectively, they are the whispered truths we wished we could utter to our past selves about what we now know about love and life, grief and friendship, about the world and about ourselves. It is our hope that these stories will remind all of us how much we have grown, lessons especially important during these challenging times. 
We say of Rosh Hashanah, "hayom harat olam—today the world was born." Not many years ago, in some mythic past, but TODAY. For indeed, every time we shed an old mindset and step into a new perspective, the world is reborn. Our prayer is that today is the day for that movement of the heart.
We wish you all a year of new beginnings, renewed strength and hope.
Rabbi Paul Kipnes
*  Adapted from Ikar and its Rabbis Brous, Tsadork, Kasher and Lebell
"Crummy Times Happen To Other People" – Anonymous
I wish I had known this when I was 23 (and 33 and 43): Time heals nearly everything. You have to be patient and believe that your bad fortune or lousy luck will change. That the universe is not out to get you. That crummy times happen to other people. 
More
"You'll See Me Plenty" – Stephanie Blau
My teenage life was thrown off course,
I hit rock bottom with explosive force.
In the blink of an eye, everything changed,
All my bearings were rearranged.
More
"I Would Be Okay" – Rich Abrams
It was the darkest time of my life. My wife of nearly 30 years had just passed away. For the last 14 months of her life, she was bed-ridden and suffering from dementia caused by radiation to her brain. I spent every day by her side, taking care of her, hoping desperately that a miracle would occur, propped up by my belief that love could heal any ailment, but knowing, deep down, that her 12-year battle with cancer was going to take her life. I tried to imagine what my life would be like when she passed away. Would I fall into a deep depression? Would I ever find love again, or would I, less dramatically, slowly dissolve into a life of sadness?
More
"It's Going To Hit You At 40" – Anonymous
If I could talk to my younger self, I would tell myself not to be so afraid and not to try so hard to be accepted by my peers and relatives. I'd tell me that I am going to become who I want to be and I'm not going to have to 'pretend to be her' anymore. I'd also tell myself to relax and allow myself to have negative thoughts about my parents. I don't need to please them because they will not withhold their love from me as I was afraid would happen. 
More
"Those Sounds Of Unknown Words" – Kiren Zucker
My parents were mid-century American pioneers. Both immigrated alone from India to the United States, speaking fluent English with those they met, as they had been taught, until they met each other. Their lives then grew, first with each relative who followed them to the United States, and then with their own children. They were determined that their U.S. born children would be true Americans, speaking English – American style; they would not be taught Punjabi. Yet, Punjabi was still spoken in their home as they conversed quietly, falling back on the familiar after days of forging careers, navigating life, and speaking English with their children. On those weekends when the house was filled with the extended family, however, Punjabi chatter rose to the rafters. 
More
"A Chance To Grow" – Ellen Weisman
Looking back on my younger self, it would be difficult to reconcile with the woman I am today. Back then I was shy, quiet, naïve, not having the best self-esteem or self-confidence. I married at 19 not really having a clue about who I was and what life was about. I built a business with my husband, had a son and daughter. I still hadn't learned to trust my intuition even when I had strong feelings and ideas. 
More
"Let Them Help You" – Anonymous
Know that your kindness is a gift. Also know that you need help in this world, and you can find it. Go back to Temple – there are really good people there. How do you know? By what they do. 
You have great friends that are very good people too. Let them help you and don't be afraid to ask for help. If you see these people showing appreciation for you, in kindness with their actions and words, well, you will start to understand and believe what a really good human being you are.
"FEEL" – Jared Kliger
The kind invitation from Rabbi Paul to share my reflections takes me back to many moments in my life thus far, but two moments stand out.  In the first, I did not know that things would work out.  The growth process taught me what I needed to get through the second challenge.  I hope my reflections on these two moments in my life will provide some meaning for others. 
More
"I Want To Be Sure" – Harvey Kalan
As I read the letter from our Rabbi Paul asking if I would like to write about a personal reflection, the first thing that came to my mind was my mortality. The words that are written in the Hebrew Bible, "who shall live and who shall die" is a very powerful verse to me. When I reflect on my own life and what I have passed on to my children and grandchildren, I think about what is important.
More
"Do I Talk To God A Lot?" – John DeRoy
I have to whisper, "Don't worry – it's going to be okay," to myself on an almost daily basis. Blessed with twin daughters entering college, my wife and I are in the same Covid boat as all parents of college-age kids: do we let them move on campus, or do we keep them home for now? For us, the answer has not been so cut and dry.
More
"Take The Time To Reflect" – Anonymous
"Don't worry—it's going to be ok"? Yes, it will be okay, maybe not always as soon as we wish. I always told my sons when life situations seemed so awful, that really those situations were not the worst thing that could happen.
More
"Compassion Floods My Heart" – Susie Guldbeck
What would I whisper to "younger Susie" … it's a recurring theme that keeps cropping up as I get older.  That theme is how resilient and resourceful we all have the capacity to be if you can live fully in the moment. That empowering experience is something that makes me feel completely alive and invigorated. The more present you can be, the more meaningful life will become whether personally, professionally or spiritually. It allows for your inner voice to be audible and embrace a state of serenity. We all have the power to choose to be exactly where our feet are planted today. 
More
"Where God Resides" – Anonymous
You feel unsafe because you can't get a guarantee that everything will be okay. The truth is that not only can you not get this promise – you don't need it. What you have is an ability to slow down and connect with your inner self (where God resides) and actually BE okay. No matter what.
You can come back to this present moment, in any moment of your life, and really be okay. You won't always be pleased with every circumstance, but you will be held in love and to your surprise, you'll be alright.
"Puppies to Lick Your Face" – Leslie Levy
To 19 year old me,
I know you think this will go on forever like this. You think you'll be locked up in this place for the rest of your life. You've grown accustomed to the nurses taking your blood pressure after you've consumed that delicious hospital food, the applesauce in those little Mott's containers, the boiled chicken, the tapioca pudding with lumps that stick to the roof of your mouth.
More