Welcome to our RSVP page, where you can register for many (but not all) of our events, meals and programs.
To register for an event not listed here or for more information, please contact office@orami.org or call 818-880-4880.
So You Think You Know SOCCER?
Saturday June 10 – 10:30 am to 2:30 pm (In Person)

Join up with Andrew at Or Ami on Sat June 10 from 10:30am to 2:30pm for a bit of a kickaround, learn about the crazy world of European soccer and then we will have a pizza watch party of the Champions League Final (the Superbowl of European club soccer). Open to all ages, parents welcome to attend! $10/person (includes pizza and snacks).
Salaam/Shalom
Monday June 12 – 7:00 to 8:30 pm (On Zoom)
Presented by Or Ami Village, open to all!
Stranger/Sister is the fascinating story of two ordinary women, one Muslim and one Jewish, who dare to believe they can join hands to stop the wave of hate. They build a movement that turns strangers into sisters, challenging our assumptions about how to fight hate in the United States. The sisters build a powerful network of hope in a time of chaos and hate.
A member of Salaam/Shalom will be facilitating our discussion after we watch this powerful documentary together.
Shabbat Shilates
Friday June 16 – 9:00 to 10:00 am PT (In Person)
Space is limited – sign up to reserve your spot! Before the day of rest is here, get in a great workout! Join our weekly mat Pilates session in our sanctuary. If you've never done Pilates, no problem! Our instructor Olya from SolPop Pilates works with all ages and fitness levels. $25/adult.
*Your kid can work out with you too! See registration page for details.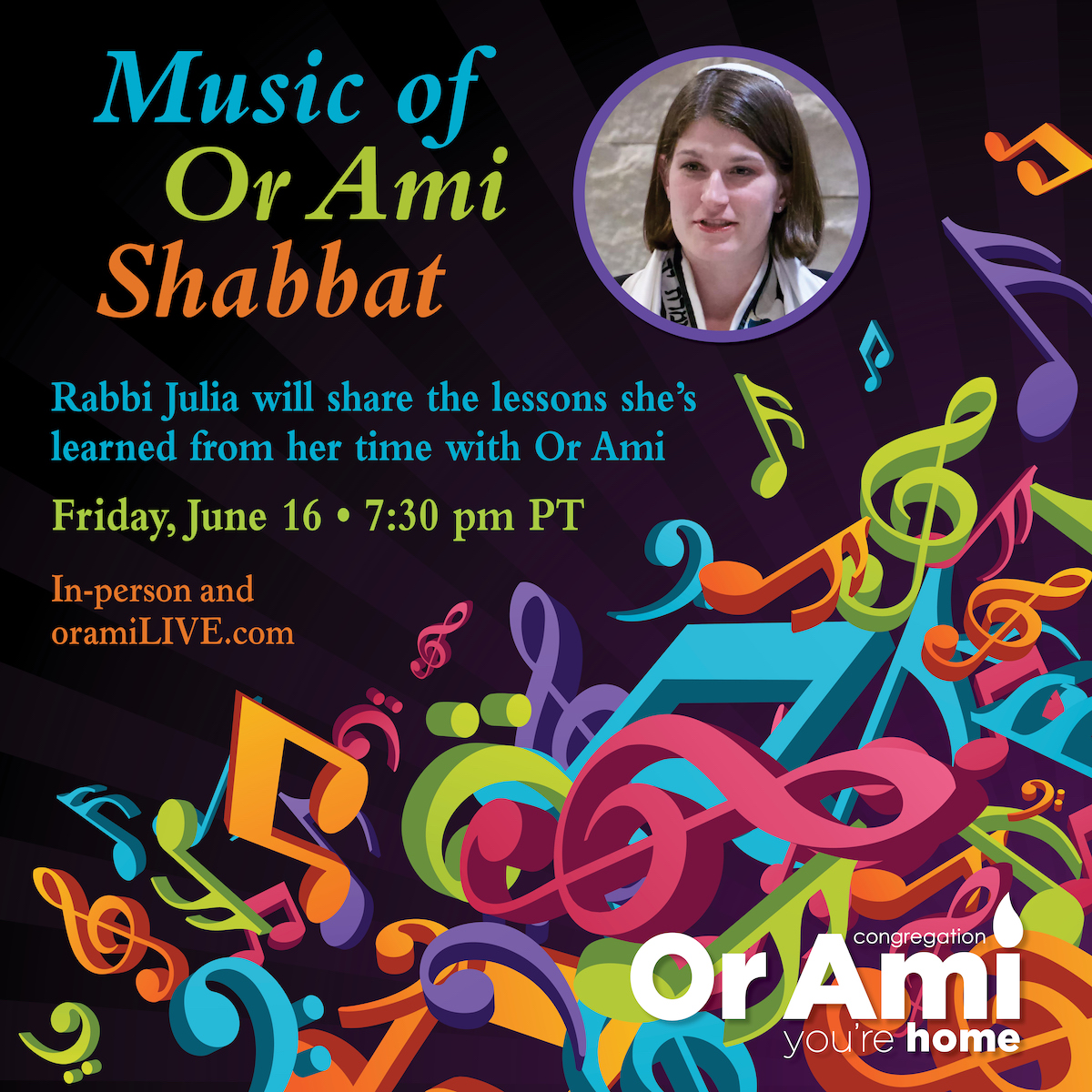 Music of Or Ami Shabbat
Friday June 16 – 7:30 pm PT (In Person + Livestream)

Experience uplifting music as Rabbi Julia shares the lessons she's learned from her time with Or Ami.
Livestreams: oramiLIVE.com | Facebook Live | YouTube Live
GenX Group: Stonehaus Meet Up
Tuesday June 20 – 5:30 to 8:00 pm (In Person at The Stonehaus)

Meet up at The Stonehaus for wine, food, and friends! See the menu here for pricing. This is a "no host" event. Please register in advance so we know how many tables to reserve.
Generation X (or Gen X for short) is the demographic following the baby boomers and preceding the millennials. This generation is generally defined as people born from 1965 to 1980. If you don't fall in this age range, but you're close enough, you're welcome to join us too!
Backyard Family Shabbat
Friday June 23 – 5:00 pm BYO Picnic Dinner | 6:00 pm Service (In Person)

We gather at a relaxed outdoor setting for a wonderful backyard-style Shabbat celebration.
Or Ami Village: Forever Brooklyn!
Sunday June 25 – 3:00 pm (In Person in North Hollywood)
Forever Brooklyn is a one-man kosher comedy about a Jewish American comic growing up in Brooklyn during the 50's and 60's. Telling the story through song, dialogue and comedy, a successful comic recounts the challenges of his rise to stardom and the challenges of assimilation in an ethnic neighborhood full of quirky characters.
Villagers: Please order your tickets quickly as space is limited and we'd love to be able to find seats together. After the show, we'll find a restaurant nearby to continue our day out together. After you've obtained your tickets, please email us at village@orami.org to let us know you'll be joining us. 
Love is Pride Shabbat
Friday, June 30 – 6:30 pm PT (In Person + Livestream)

Celebrate and honor Pride Month and show our support for the LGBTQ+ community during this Shabbat evening service.
Livestreams: oramiLIVE.com | Facebook Live | YouTube Live
Or Ami Village: Sunday Bagel Brunch
Sunday, July 23 – 11:00 am – 1:00 pm
New, current, and future members of Congregation Or Ami Village are invited to get together for a casual Sunday Bagel Brunch.
We're kicking off the fourth year of successfully keeping our vibrant 55+ community connected, informed, engaged, and entertained by offering a rich variety of programs and activities throughout the year.
Greet old friends, make new ones, and have a nosh! JOIN US!
Beach Shabbat
July 28 – 5:00 pm BYO Picnic | 6:00 pm Service (In Person)

Get your toes in the sand, bring a picnic dinner, and celebrate with us. Open to all! Bring Friends!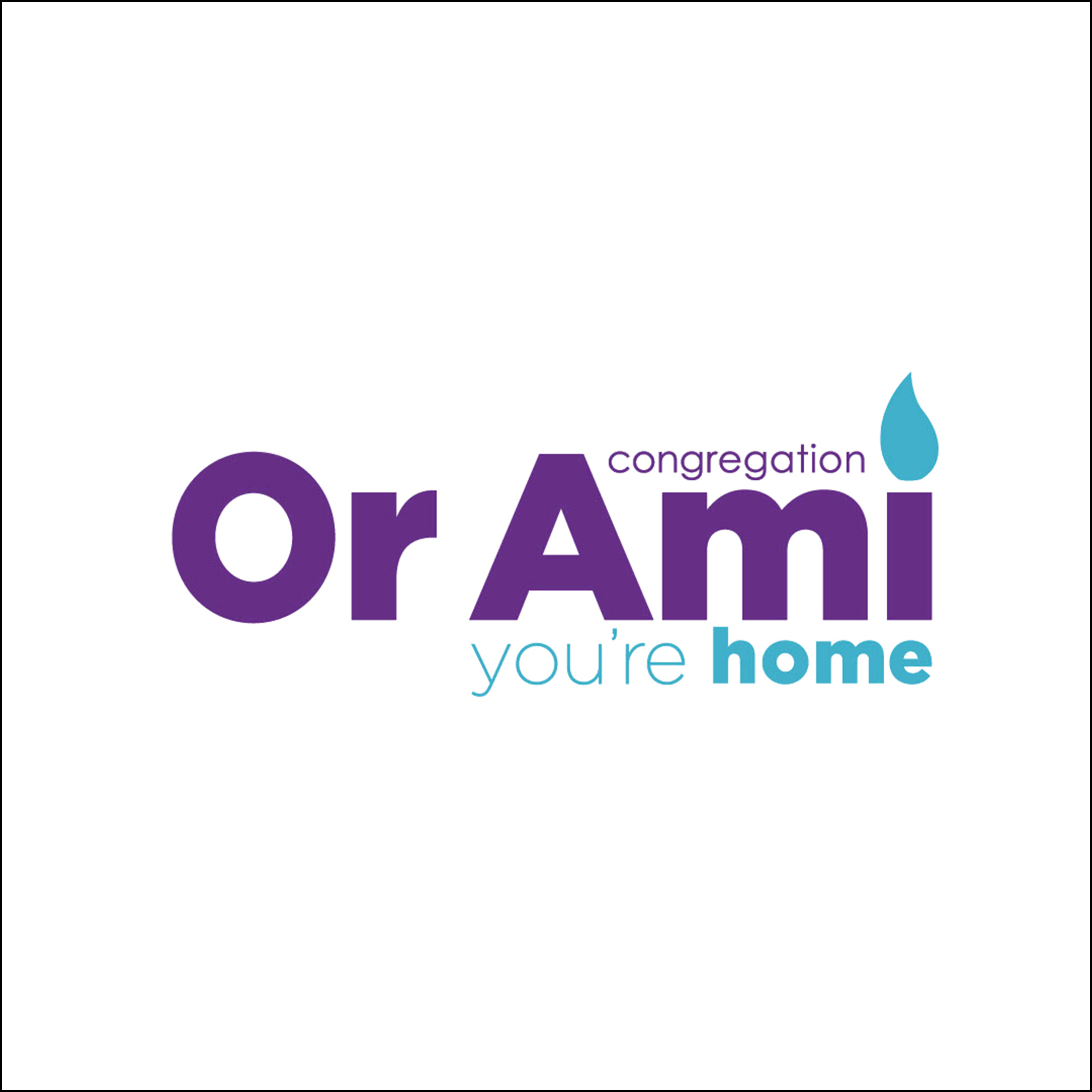 Fantasty Football Night (Teens Only)
Saturday August 19 – 5:00 to 8:00 pm (In Person)

Get excited for the NFL Season! 7th-12th Graders are invited to the temple for a mini-Fantasty Football league. We will team up, draft our players and simulate an entire season in one night. Prizes for winners! Includes Dinner.
RSVP Info Coming Soon