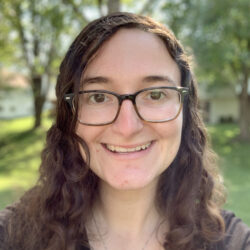 SAMANTHA THAL'S BIO
Sam (Samantha) Thal grew up in St. Louis, Missouri and still has not gotten over how beautiful the weather is here in LA.
Sam has always been involved in her Jewish community. From practically living at her home congregation, Shaare Emeth in St. Louis, to summers at camp at URJ Goldman Union Camp Institute (GUCI) in Zionsville, Indiana, Sam is always somewhere learning, teaching, playing guitar, or praying in Jewish spaces.
Sam got her BA in Educational Studies from Webster University where she was president of the Jewish club and a member of the Quidditch team.
One of Sam's biggest passions is Tefilah (prayer). Whether leading, or participating, she loves feeling connected to the community, to the music, and to the words of our tradition.
In her free time, Sam likes to read, play guitar, juggle, and listen to music. She is so excited to be part of the amazing Or Ami family and looks forward to connecting with the community.