Shabbat MusicLab – September 6 2019
with Rabbi Weisz and Special Guest Charlie Kramer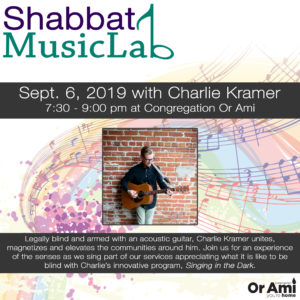 WHEN: 7:30 – 9:00 pm
WHERE: Congregation Or Ami
Legally blind and armed with an acoustic guitar, Charlie Kramer unites, magnetizes and elevates the communities around him. Join us for an experience of the senses as we sing part of our services appreciating what it is like to be blind with Charlie's innovative program, Singing in the Dark.
What is Shabbat MusicLab?
Enjoy the innovative and inspirational cutting edges of Jewish music with guest musicians, composers and their interpretations of Jewish prayers & contemporary themes.
Head to our full calendar for other events