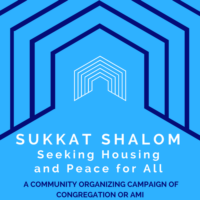 The Sukkat Shalom Campaign aims to increase supportive housing in Los Angeles County for those experiencing homelessness. Sukkat Shalom will engage the Or Ami community members of all ages in a large-scale social justice effort.
The members of the Sukkat Shalom Committee work to make a difference by…
Researching legislation and city policies addressing homelessness
Attending local events and council meetings – \"networking\" to hear and discuss new opportunities for joint ventures with similar organizations and interfaith leaders
Provide training and workshops in community organizing
WHO ARE OUR PARTNERS
We have a constantly growing number of advocates and organizations with which we work, including Many Mansions, LA Family Housing, Senator Stern, Councilmember Bob Blumenfeld…
Everyone In LA is a community movement to end our homelessness and housing crisis by building public and political will to create solutions we know work: affordable and supportive housing in every part of L.A. County.
Our mission is to keep L.A. on track by celebrating progress where we see it, putting pressure on government at every level to do more, and organizing our neighbors to speak up for change. The vast majority of people out there are waiting to get organized https://everyoneinla.org/
LA Family Housing helps people transition out of homelessness and poverty through a continuum of housing enriched with supportive services https://lafh.org/
LA Voice is a multi-racial, multi-faith community organization that awakens people to their own power, training them to speak, act, and work together to transform our County into one that reflects the dignity of all people. We believe all people have power and a voice. Every day we amplify that power by uniting diverse faith voices to stand-up for what their communities need, winning changes that improve the lives of all Angelenos https://www.lavoice.org/
Questions? Contact advocate@orami.org
3rd Annual Interfaith Solidarity March
When:  Sunday, October 27, 2019 at 2:00 pm
Where: Starting and meeting at Valley Beth Israel 13060 Roscoe Blvd, Panorama City and ending at Panorama Presbyterian Church 14201 Roscoe Blvd, Panorama City
Why: This is an excellent opportunity to learn about and interact with people of other faiths and be a part of the Or Ami family!! Congregation Or Ami has a major role in this inspirational and informational walk. We have helped plan the program and will be taking an active part in the presentations. At the third stop, our COA students, led by Rabbi Julia and Myron Dembo, will do a short play about homelessness. They will join Hazzan Stein from Temple Aliyah in "Listen" and the Sh'ma. At the end, everyone will have a chance to view video interviews with people experiencing homelessness, compiled by Michael Kaplan.
Click here for a copy of the flyer with all of the details. We hope to see you there!