Teen Opportunities Overview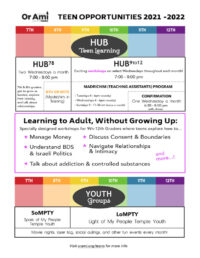 MAKOM and MAKOM HIGH
(formerly known as HUB)
Where 7th-12th Graders find Community and Connection
MAKOM (formerly known as HUB) is our 7th through 12th grade learning program, that engages students to deepen their Jewish knowledge, leadership skills, spirituality and social connection to their peers. Students can choose from a variety of options including our Madrichim Leadership Institute, Youth Group Events and special trips all over the country (if Covid allows).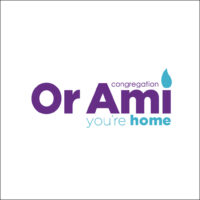 MAKOM CALENDAR COMING SOON
For more information on MAKOM, contact Teen Engagement Coordinator Andrew Fromer
Youth Groups
Connecting, Bonding and Leadership Development
LoMPTY (Light of My People Temple Youth)
for 9th, 10th, 11th and 12th Graders
SoMPTY (Spark of My People Temple Youth)
For 7th and 8th Graders
GoMPTY (Glimmer of My People Temple Youth)
For 4th, 5th, and 6th Graders
Youth Group participation play such a crucial role in the development of Jewish teens. Through social outings and social action projects throughout the year, our teens have created lifelong friendships and gained hands-on experience in standing out as leaders among their peers, especially through our LoMPTY Teen Board which runs the majority of programming for their fellow teens, in addition to programs at retreats for those younger than them.
For questions and interest in our Youth Groups,
please contact our Teen Engagement Coordinator Andrew Fromer.
Retreats
A weekend away at "camp"
Please note that as of now, we do plan on holding retreats this year but please bear in mind that Covid could create schedule changes.
Always one of the highlights of the year! A weekend away, out of cell service in the beautiful hills of Simi Valley at Camp Alonim. Like a weekend at summer camp filled with fun/dynamic programming, sports, campfires, music and more!
7th-12th Grade Teen Retreat: December 2 – 4, 2022
4th-6th Grade Retreat: February 10 – 12, 2023
For more information on our retreats, please contact Rabbi Julia Weisz
Trips
You're home wherever you go!
One of the most impactful ways for a Jewish teen to connect with their community is by leaving…not the community, of course, but their hometown! By venturing out into the world with a group of their fellow Or Ami teens, clergy and staff, our kids will feel at home no matter where they go, as they bonding, go through profound experiences, and see places for the first time side by side.  Whether it's just down the road at Disneyland or across the world in Israel, we would love to inspire the fun of travel in your teen! Examples of some trips…
7th & 8th Grader Disneyland –  Gather at Or Ami bright and early, hit the bust to be the first one's through the gate for a full day at Disneyland! 
January 27-30, 2023 – 10th, 11th and 12th Graders head to the annual L'Taken Social Justice Seminar in Washington DC. An incredible experience as our teens get to lobby members of Congress on the issues that matter most to them. An impactful and unforgettable weekend.
8th and 9th Graders venture over to Arizona, stopping in Phoenix, Tucson and Nogales to explore Jewish life in our neighboring state as well as the Jewish perspectives on issues of immigration and refugee justice at the US Southern Border.  In the past, Congregation Or Ami has organized this trip in partnership with Tzedek America. Participants gained new perspectives by meeting with non-profits, immigration lawyers and refugees, celebrated Shabbat with the Jewish community of Phoenix and visited local tourism sites along the journey.
For more information on our trips, please contact Rabbi Julia Weisz