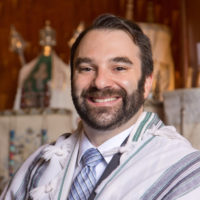 Developing a Deep Self-Reflective Rabbinate 
Abiding Lessons from my Internship at Or Ami
By Rabbi Greg Weisman
Serving as Or Ami's Mishpacha Coordinator and working closely with Rabbi Paul Kipnes, my eyes were opened to the innovative and compelling world of family education. As we learned together in classrooms, on the floor of the sanctuary, at the Gentle Barn farm in Santa Clarita, and in Or Ami's temporary home in the spring of 2011, I saw the brightness of our Torah and our Jewish tradition brighten the light in the eyes of the parents and children who came to learn with us and walk their families' Jewish journeys together. Working closely with my colleague Joel Abramowitz, we learned m, first hand from Rabbi Paul, our mentor and teacher, what supervision, imagination, and communal leadership looks like.
Almost a decade later, I am serving as a rabbi and teaching youth, teens, adults, and families together at my congregation in Boca Raton, Florida. I think constantly about my time at Or Ami and with Rabbi Paul. I think about how he taught me never to underestimate what the members of our congregations will do to help support their communities to success. Whether we were filling the sanctuary with glow sticks in a re-enactment of the Kabbalah's description of Creation, or asking the entire group of families to schlep out to Santa Clarita to spend the morning experiencing animal therapy, Rabbi Paul again and again helped us discover that with a good vision and purpose, committed congregants will do everything they can to make something successful.
As a supervisor, mentor, and now a colleague, I have grown to see Rabbi Paul as a deeply self-reflective rabbi. In conversations we have been in together, I constantly experience him striving to better understand the needs of those around him. He has been especially self-reflective and articulate as our Reform rabbinate has been engaging in deep contemplation on how women in the rabbinate can rightfully be elevated and their essential contributions recognized. As a male colleague, I look to him as an example of someone who is not afraid to look in the mirror and assess his own past actions, and I strive to do the same in my own work.
I am so blessed that I can call Rabbi Paul my friend and colleague, my teacher, and most significantly, my rabbi.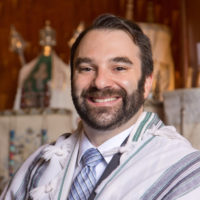 Rabbi Greg Weisman has served Temple Beth El in Boca Raton since 2013. He is deeply involved in the congregation's social action and social justice work, the Early Learning Center and Religious School, and guides the congregation's Introduction to Judaism and conversion program. In the Boca Raton community he serves on the Boca Raton Interfaith Clergy Association, is vice-president of the Palm Beach County Board of Rabbis, and sits on the board of the Palm Beach County office of American Jewish Committee. While in rabbinical school at the Hebrew Union College-Jewish Institute of Religion in Los Angeles, he served as intern and Mishpacha Mishpacha Coordinator at Congregation Or Ami in Calabasas in 2010-2011. He and his wife Tami Weisman, RJE, a Jewish educator, live in Boca Raton with