Kvell and Tell – June 19 2020 – Jamie Klinenberg Outgoing LoMPTY President Installation Speech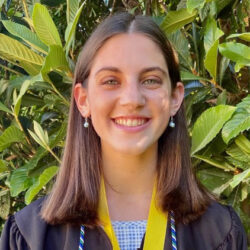 The following speech was read by LoMPTY's Outgoing President, Jamie Klinenberg, during our 2020 Board Installation Shabbat Service on May 29, 2020
Shabbat Shalom. Thank you all for being with us tonight to celebrate the incredible work of our past boards and the bright future of our upcoming leaders. It has been an honor and a privilege to serve as LoMPTY's president for the past two years, and I'd like to take this opportunity to highlight the people that have made this year so special.
First, I'd like to thank the rabbis and the cantor for prioritizing the teen program and trusting high schoolers the way that you do. It means a lot to know our ambitions are always backed. Additionally, I want to thank our incredible advisors, Halle and Andrew, for the support you've given us this year. Turning the wildest ideas from a group of teenagers into a reality is not an easy task, and you two have given us the ability to think big and make big things happen. Thank you so much. 
Now to the board. I had a good feeling about this group a year ago when we were installed, and you have far exceeded my expectations. This year we've brought in new members, engaged in meaningful discussions about social issues, connected regularly through Lite Nites, and proudly continued our Cafe LoMPTY tradition – all thanks to you guys. You should all be incredibly proud of the work you've done and the leadership you have shown. I've come to believe that the president's job is actually the easiest when backed by an effective and hard-working board, and I'm pleased to say that my job was pretty easy this year. 
This year's board has shown me what it means to be truly proud of a team, and I cannot thank this group enough for making this year so meaningful for me. To Sara, who I am thrilled to have succeed me, and to the rest of the new board, I am confident that you will do even better things in the year to come and I can't wait to see you all thrive. Thank you and Shabbat Shalom.