Shabbat MusicLab – March 13 2020
with Rabbi Kipnes, Cantor Cotler and Special Guest Singer/Songwriter & Songleader Lucy Greenbaum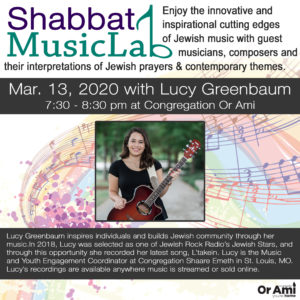 WHEN: 7:30 – 8:30 pm, Friday March 13 2020
WHERE: Congregation Or Ami
Lucy Greenbaum inspires individuals and builds Jewish community through her music.In 2018, Lucy was selected as one of Jewish Rock Radio's Jewish Stars, and through this opportunity she recorded her latest song, L'takein. Lucy is the Music and Youth Engagement Coordinator at Congregation Shaare Emeth in St. Louis, MO. Lucy's recordings are available anywhere music is streamed or sold online.
This service will be LiveStreamed at oramilive.com
What is Shabbat MusicLab?
Enjoy the innovative and inspirational cutting edges of Jewish music with guest musicians, composers and their interpretations of Jewish prayers & contemporary themes.
Head to our full calendar for other events