Shabbat MusicLab – March 27 2020
with Rabbi Kipnes, Cantor Cotler and Special Guest Composer/Musician & Songleader Chava Mirel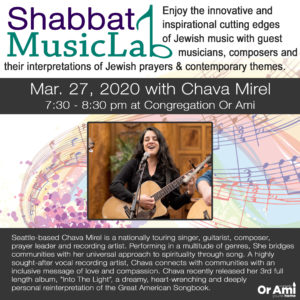 WHEN: 7:30 – 8:30 pm, Friday March 27 2020
WHERE: Congregation Or Ami
Seattle-based Chava Mirel is a nationally touring singer, guitarist, composer, prayer leader and recording artist. Performing in a multitude of genres, She bridges communities with her universal approach to spirituality through song. A highly sought-after vocal recording artist, Chava connects with communities with an inclusive message of love and compassion. Chava recently released her 3rd full-length album, "Into The Light", a dreamy, heart-wrenching and deeply personal reinterpretation of the Great American Songbook.
This service will be LiveStreamed at oramilive.com
What is Shabbat MusicLab?
Enjoy the innovative and inspirational cutting edges of Jewish music with guest musicians, composers and their interpretations of Jewish prayers & contemporary themes.
Head to our full calendar for other events