As an innovative, modern, and exciting Jewish community, Congregation Or Ami is committed to creating youth programs that are relevant and adapted to today's Jewish learners.

• Mensch-ify, our family learning program, is a parenting and pre-K to 6th grader Jewish "how to" experience, guiding parents on how to raise Jewish mensches (kind and compassionate Jewishly-engaged children), while simultaneously teaching pre-K to 6th graders how to live as mensches.
• Kesher means "connection," and our Kesher Program is designed to foster deep connections among K-6th grade students. By consolidating Judaica and Hebrew learning, we have created an easier schedule for families, while maintaining the same fun, engaging atmosphere for students to learn and grow.
• HUB*78 and HUB*9to12 provide community and connection to 7th-12th graders. In addition to strengthening their social bonds, teens gain leadership skills by expanding their minds and opening their hearts.
2021-2022 School Year
Or Ami's 2021-2022 school year will:
Gather in person for ALL K-12th grade learning programs
Offer a virtual option for families unable to return to in-person learning
Begin in-person classes in late September or early October at the synagogue
Follow CDC guidelines for all protocols, including indoor social distancing, capacity limits, and mask use
Enhance our synagogue to ensure a healthy indoor environment at the temple, both in terms of air quality and surface disinfecting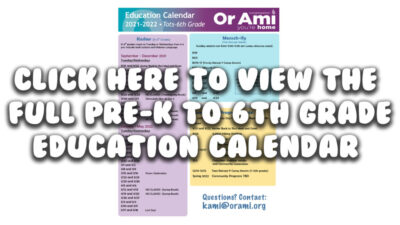 Click on our various learning programs below to view start dates and schedule details for the upcoming school year.
How to Register:
If you're a current Or Ami partner and would like to register, click here.
If you're interested in joining our community as a new partner, click here.
Questions? Contact Kami Brown at kami@orami.org
Education Programs
Find out more about...
Looking for our Youth Groups?


Check out…
For more information about programs and registration, please contact Kami Brown at kami@orami.org or 818-880-4880