Welcome to Congregation Or Ami - You're Home!
No one is more welcome at Or Ami than you…
Already a partner and ready to renew? CLICK HERE
New to Or Ami and ready to sign up? CLICK HERE
To learn about our virtual youth community and learning programs, CLICK HERE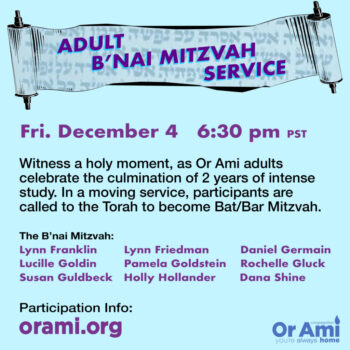 This Week's Shabbat Service
December 4 at 6:30 pm PST –  Adult B'nai Mitzvah Service – Witness a holy moment as Or Ami adults celebrate the culmination of 2 years of intense study. In a moving service, participants are called to the Torah to become Bat/Bar Mitzvah. 
The B'nai Mitzvah: Lynn Franklin, Lynn Friedman, Daniel Germain, Lucille Goldin, Pamela Goldstein, Rochelle Gluck, Susan Guldbeck, Holly Hollander and Dana Shine 
Zoom info TBD
LiveStreams:  oramiLIVE.com — Facebook Live
What a community we have built! In-person or virtual, we are Or Ami, where you're still home!
Video Created, Directed and Edited by Noah Mayer