Welcome to Congregation Or Ami - You're Home!
No one is more welcome at Or Ami than you…
What a community we have built! In-person or virtual, we are Or Ami, where you're still home!
Video Created, Directed and Edited by Noah Mayer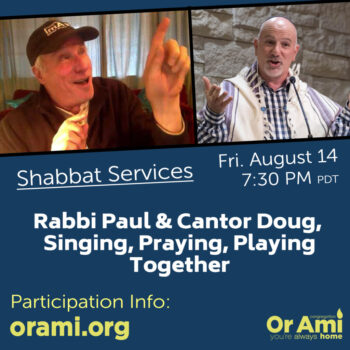 This Week's Shabbat Service
August 14 @ 7:30 pm – Rabbi Paul & Cantor Doug, Singing, Praying, Playing Together
Zoom info TBD.
LiveStreams:  oramiLIVE.com — Facebook Live
Summer Hours at Or Ami
Our office is observing summer hours, closing on Mondays. The answering machine has instructions on how to reach our staff in an emergency.